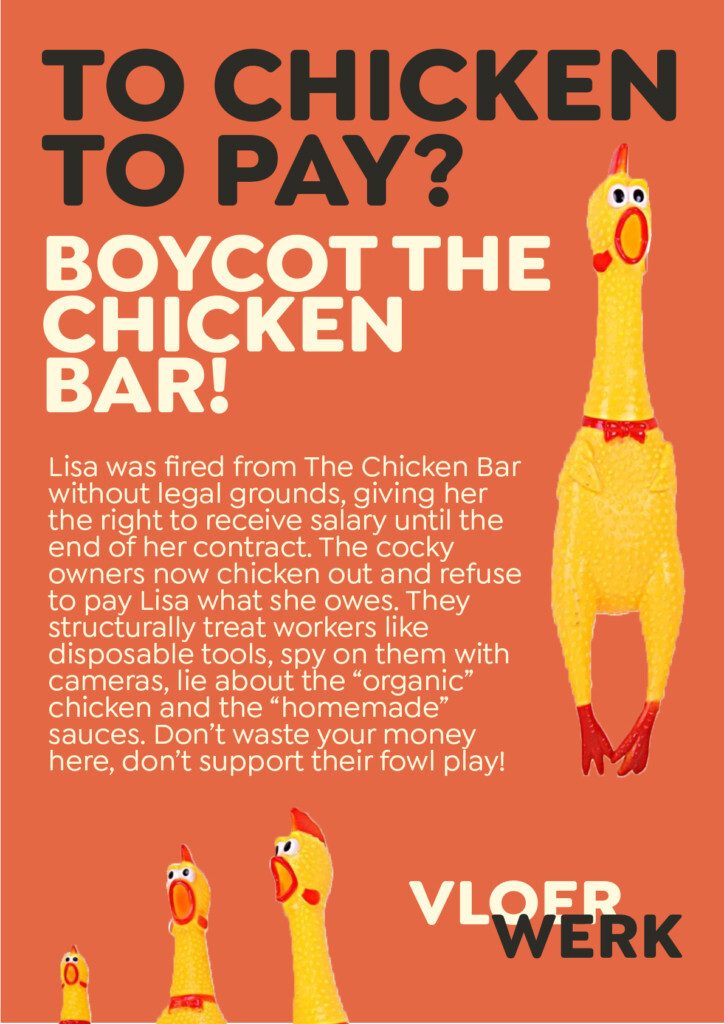 Monday 13 September 2021, Benefiet voor Solidariteitsnetwerk Vloerwerk na razzia, Volkseten Vegazulu. Food served from 7pm till 9pm, no reservation.
Vloerwerk voerde actie voor de Chicken Bar toen we massaal opgepakt werden in een razzia. We eisten uitbetalen van achterstallig loon. Politie en baas high-fiveden achteraf. Vloerwerk komt terug, sneller dan je denkt, maar we hebben nu je solidariteit nodig! We hebben flinke kosten, onder andere omdat één van ons vanwege de razzia gedeporteerd is. Kom langs en steun ons! We koken voor je, houden een praatje en mogelijk hebben we een optreden. De gedeporteerde werker komt aan het woord over hoe hij in actie is gekomen en hoe hij alles meemaakte… en heeft een boodschap voor de achterblijvers.
Benefit for Solidarity Network Vloerwerk after mass arrest
Vloerwerk took action against the Chicken Bar and we were arrested in huge numbers. We demanded payment of back wages. Police got a high five from the boss. Vloerwerk is coming back, faster than you think, but we need your solidarity now! We have considerable costs, partly because one of us was deported following the raid. Come along and support us! We will cook for you, have a chat and possibly have a performance. The deported worker will speak about how he came into action and how he experienced everything and has a message for those left behind.
Volkseten Vegazulu is a people's kitchens existing since the very beginning of Joe's Garage, June 2005. Your donations are welcome. Starting from 19:00 until 21:00, vegan, no reservation. All benefits go to social & political struggles. Joe's Garage is a space run by volunteers. Without a collective effort, without your active participation, we're remaining closed. Get in touch in you feel like giving a hand. We're always looking for cooks. Any help is welcome in the kitchen. Experience not required. If you want to know which days are still available, mail us.