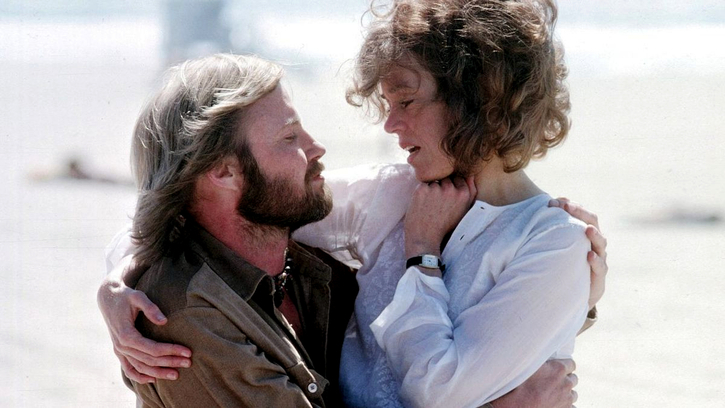 Sunday 19 September 2021, Can Dialectics Break Bricks Cinema: Coming Home (Hal Ashby, 1978), 126 minutes, in English with English subtitles. High-definition screening. Free admission. Doors open at 20:00, Film starts at 20:30
Directed by one of American's greatest filmmakers Hal Ashby, this was a groundbreaking film when it hit the cinemas… and it's another of those films whose message is even more relevant today than when it was made. Some films fade over time, and others get richer.
Coming Home stars a young Jon Voight (Midnight Cowboy), Bruce Dern (Nebraska) and Jane Fonda. It should be remembered that Jane Fonda had made a lot of enemies around the time when this film was made. She had gone to Vietnam during the war in 1972 and made pictures with the so-called "enemies". She said the American bombings of Vietnam constituted a war crime, and denounced American soldiers as war criminals. Many Americans of course couldn't see her point… there was a smear campaign built against her in the States; they called her "Hanoi Jane" and clamored for her neck, saying she should be tried for treason. Many would have lynched her if they had the chance.
Coming Home is based on Jane's friendship with Ron Kovic, whose autobiographical book Born on the Fourth of July would later be made into a film by Oliver Stone. This movie came out roughly at the same time as a few other films that dealt with the effects of the war at home in America…. of the damaged soldiers who were returning. But where the other films, like The Deer Hunter, relied on "flashbacks" of the war to show its violence and horror, this film was far more intelligent… not showing any violence at all, only the devastating emotional impact.
The soundtrack is made of the music of the times (Rolling Stones, Beatles, Jimi Hendrix, etc.), but it's especially the music of Tim Buckley (the father of Jeff) which captures better than anything else director Hal Ashby's mood and scorching sentiment. Winner of three Academy Awards (best actress, actor and script) back in the days when the Academy sometimes took risks.
Film night at Joe's Garage, cozy cinema! Free entrance. You want to screen a movie, let us know: joe [at] lists [dot] squat [dot] net