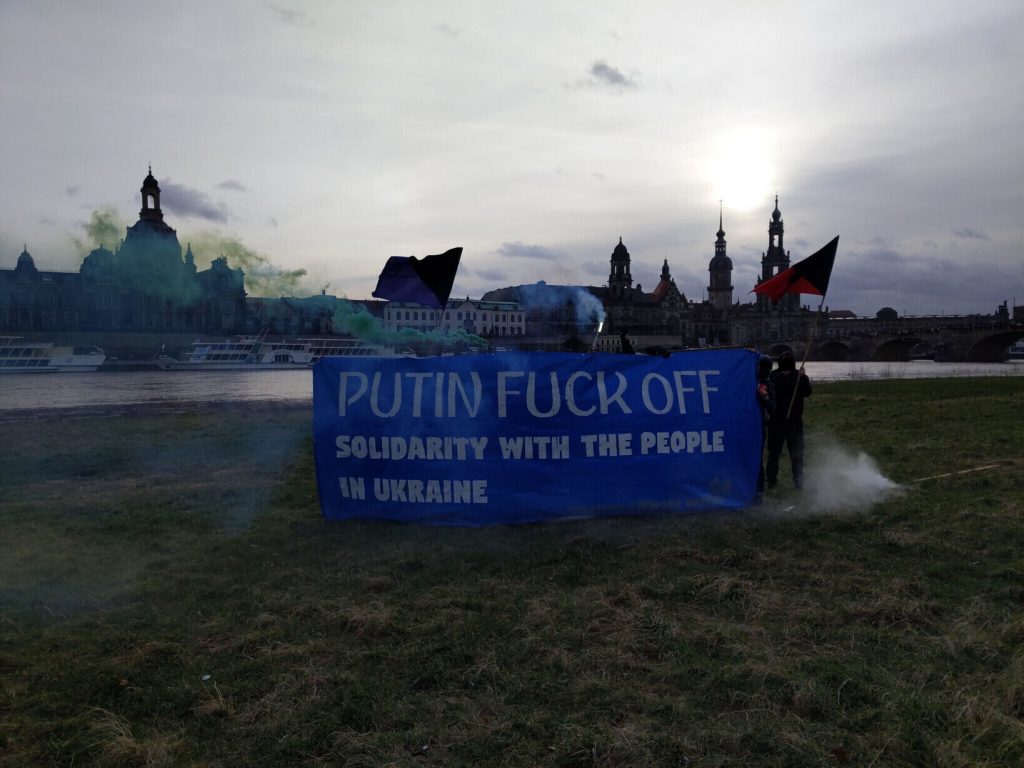 Monday 7 March and Monday 28 March 2022, Benefit voku for mutual-aid groups in Ukraine. Volkseten Vegazulu. Food served from 7pm, no reservation.
All benefits will go to ABC Dresden to be then distributed to groups on location. Vegan food.
ABC Dresden published this callout on 24 February: Support the Anarchist Community in Ukraine during the war. At 5 AM on Thursday, February 24th, 2022, Putin started the invasion into Ukraine. Explosions have been reported throughout the largest cities in the country. This clearly shows that this is not just about the eastern provinces of Lugansk and Donezk.
Now it is time for us to support our friends and comrades. People have begun to organize in order to support people directly.
You can help people bring their relatives and friends into safety, support people who need to leave the country and find a new home, to organize resistance in city neighbourhoods and to acquire general as well as medical care in order to survive. Furthermore there are many people from other countries of the region such as Belarus or Russia, who have sought shelter in the Ukraine for the last few years. With the Russian invasion they are again no longer safe within Ukraine, as it was the Russian government from which they fled in the first place. Please donate to support our friends in Ukraine or here to the given account with reference to UKRAINE. https://abcdd.org/2022/02/24/unterstutzt-die-anarchistische-community-in-der-ukraine-wahrend-dem-krieg/
Volkseten Vegazulu is a people's kitchens existing since the very beginning of Joe's Garage, June 2005. Your donations are welcome. Food is vegan, no reservation. All benefits go to social & political struggles. Joe's Garage is a space run by volunteers. Without a collective effort, without your active participation, we're remaining closed. Get in touch in you feel like giving a hand. We're always looking for cooks. Any help is welcome in the kitchen. Experience not required. If you want to know which days are still available, mail us.