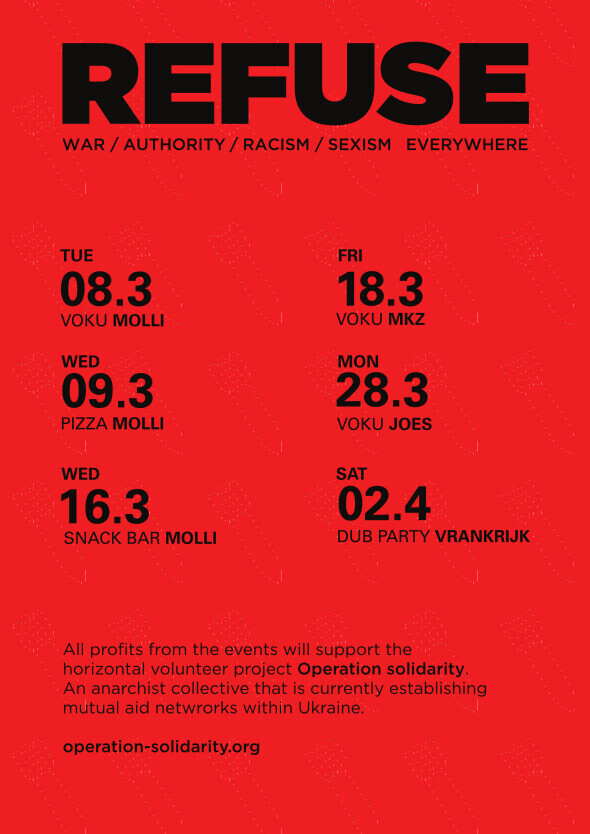 Monday 28 March 2022, Benefit voku for mutual-aid groups in Ukraine, Operation Solidarity fundraiser. Volkseten Vegazulu. Food served from 7pm, no reservation.
Various social spaces in Amsterdam are expressing solidarity with people affected by the war in Ukraine by organising benefit nights. With the Russian military invasion continuing, more and more people are facing difficult conditions, either on the move or staying amid the war. With each new day of attacks, the need for support is increasing. All donations from these events will go to Operation Solidarity, a Ukraine based anarchist initiative formed right after the attacks in February 2022.
At the moment Operation Solidarity is busy with organising and building structures of direct support for people who've been affected by the war as well as with arranging supplies for anti-authoritarian defense forces. The funding that the project is receiving goes to grassroots initiatives that are arranging basic supplies in places where there are shortages of food and medicine, organising transportation to and from the borders and finding temporary accommodation for people who are fleeing. Operation Solidarity doesn't differentiate providing aid between European and non-European people.
This war, just like any, is a product of borders and authoritarian societies. We refuse to accept the ideals of nation states and stand in solidarity with the people who are refusing to bend under dictatorship.
All profits from the events will support the horizontal volunteer project Operation Solidarity, an anarchist collective that is currently establishing mutual aid networks with Ukraine.
Operation Solidarity https://operation-solidarity.org/
Volkseten Vegazulu is a people's kitchens existing since the very beginning of Joe's Garage, June 2005. Your donations are welcome. Food is vegan, no reservation. All benefits go to social & political struggles. Joe's Garage is a space run by volunteers. Without a collective effort, without your active participation, we're remaining closed. Get in touch in you feel like giving a hand. We're always looking for cooks. Any help is welcome in the kitchen. Experience not required. If you want to know which days are still available, mail us.