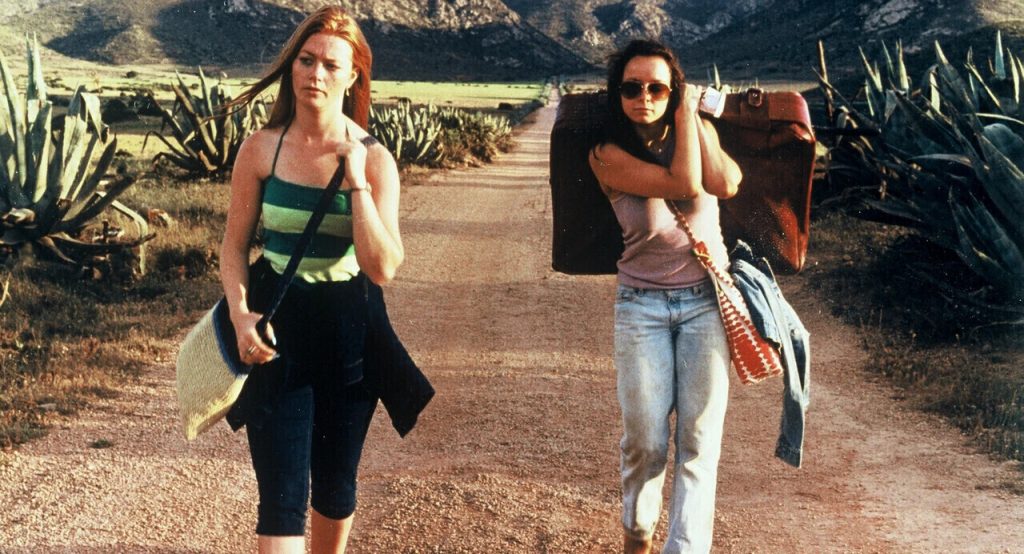 Sunday 12 June 2022, Can Dialectics Break Bricks Cinema: Morvern Callar (Lynne Ramsay, 2002), 97 minutes, in English with English subtitles. Doors open at 20:00, film starts at 20:30.
Scottish director Lynne Ramsay (We Need to Talk about Kevin) proved to be the boldest of all female European filmmakers when she blasted into the scene with her compelling early short movies and her haunting debut feature Ratcatcher. Morvern Callar was her second feature film, and we find her covering radically different territory yet again, with a story about a woman in Scotland whose boyfriend has committed suicide on Christmas Day. She then breaks away and takes off on a trip with her female friend to Spain. Actually, there is a lot more to this story than what I am telling, involving many levels of deception, intrigue, questions about art and forgery, and hidden secrets, but it's better to let the story unfold itself. And although there is a story, I would say it isn't a movie for a story-driven audience, one that is looking for thrills and spills… but rather for an audience that can pick up on ambience, the sensuality of the human face, and quiet subdued moments rather than overblown ones.
This is an absorbing portrait of the main heroine portrayed by Samantha Morton, and if you allow yourself to be open, it will suck you into its vast world. The cinematography hits you over and over again with its atypical framing and focusing, which is immersive and revealing. These images are fused with a wide-ranging soundtrack including music by Aphex Twin, Broadcast, German Kraut-rockers Can, Stereolab, Ween, the Velvet Underground, Lee 'Scratch' Perry, Nancy Sinatra and Lee Hazlewood, etc. The film is based on the debut novel by Scottish author Alan Warner, who dedicated his book to musican Holger Czukay, so of course some of his music also emerges in several scenes. The free-form approach and unrushed speed of this flick, devoid of the normal identification gimmicks, means you won't connect to our main character like you would in 'normal' movies…. she stays independent and mysterious. A poetic stream of both rough and lush textures, with an astounding performance by actress Samantha Morton that is absolutely mesmerizing.
This will be a high-definition screening.
Film night at Joe's Garage, cozy cinema! Free entrance. You want to screen a movie, let us know: joe [at] lists [dot] squat [dot] net