Monday 5th December 2022, Benefit voku in solidarity with Iranian protesters, documentary screening 'Iranian Women's Liberation Movement, Year Zero' and discussion with Iranian protesters. Food served from 7pm, no reservation.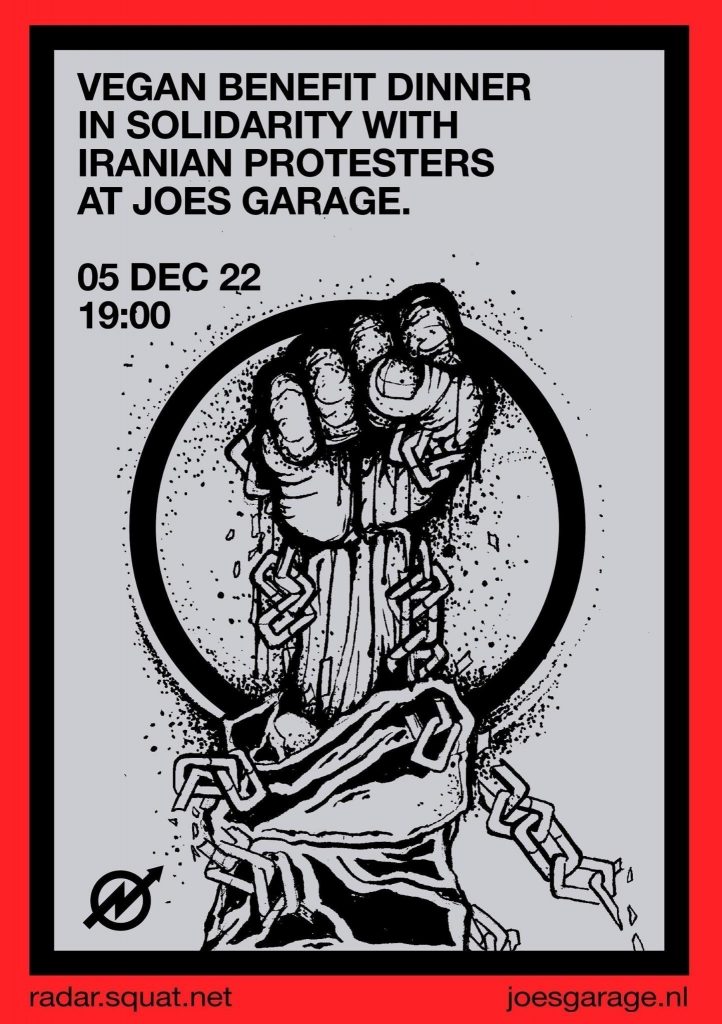 All benefits go to Iranian protesters. After the dinner, screening followed by an improvised talk/discussion. Little homemade craft objects will be available on donation, all proceeds will go to the benefit cause.
Screening of short documentary, Iranian Women's Liberation Movement, Year Zero by Claudine Mulard, 1979 (جنبش آزادی زنان ایران – سال صفر) . In 1979, Iranian Women invite the American feminist Kate Millett to celebrate March 8, the International Women's Day, in Tehran. On March 7, the religious leaders announce that women have to wear the Islamic veil. From March 8 to March 13, Iranian women and liberals demonstrate in the streets against the veil. A crew of four French feminists (Sylvina Boissonnas, Michelle Muller, Sylviane Rey, and Claudine Mulard) filmed these historic events before being expelled by the Islamic government.
Volkseten Vegazulu is a people's kitchens existing since the very beginning of Joe's Garage, June 2005. Your donations are welcome. Food is vegan, no reservation. All benefits go to social & political struggles. Joe's Garage is a space run by volunteers. Without a collective effort, without your active participation, we're remaining closed. Get in touch in you feel like giving a hand. We're always looking for cooks. Any help is welcome in the kitchen. Experience not required. If you want to know which days are still available, mail us.