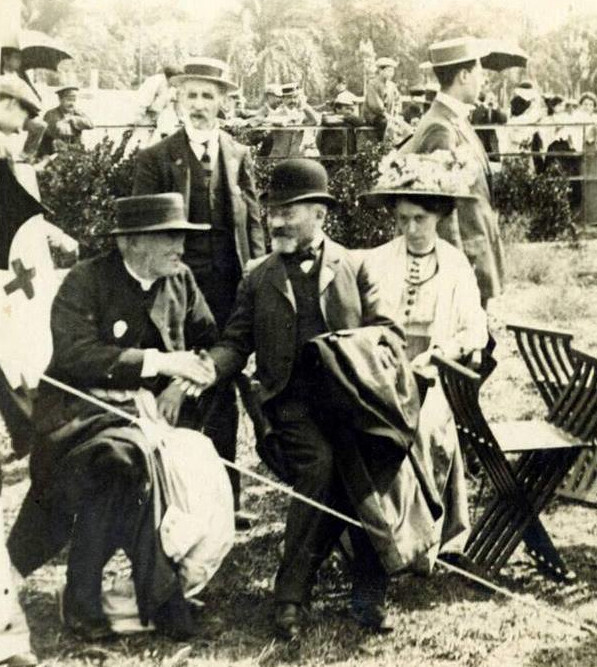 Merkredo 8 Februaro 2023, Filmovespero: 1910 de Exploring Esperanto (2022)
Speciala evento de la serio Esperanto-Atelieroj en Ĝogaraĝo! Ni kunspektos "1910," filmon el la teatraĵo kiu premieris dum la 107-a Universala Kongreso de Esperanto en Montrealo, 2022.
Pordoj malfermiĝas je horo 18:00 por kuna vespermanĝeto (bv kunporti ion!), kurso por komencantoj komenciĝas strikte je horo 18:30, progresantoj je horo 19:30. Poste ni kunspektos la filmon 1910. Scivolemuloj ĉiam bonvenas.
Dufoje monate merkrede: 18-21:30, Esperanto-kurso
Wednesday 8 February 2023: Esperanto Film Night: 1910 de Exploring Esperanto (2022).
Doors open at 18:00, beginner's course starts at 18:30 (strict), film starts at 20:30 (strict).
Special night at Joe's Esperanto Workshops! This evening, we will watch together "1910," presented by Exploring Esperanto, a film of the play which premiered during the 107th World Esperanto Congress in Montreal in 2022.
As usual, we have courses at two levels: absolute beginners and intermediate. We learn the Esperanto language along with its culture. Sometimes fluent speakers join in, do not miss the occasion; you will listen to advanced speakers with their wonderful Esperanto life stories. Official synopsis:
British Esperantist William Mann travels through time to the year 2022 to tell the congress members in Montreal about his own experience traveling to America with Dr. Zamenhof on the huge ocean liner George Washington for the 6th International Congress of Esperanto more than a century ago. Written and Produced by Yevgeniya (Ĵenja) Amis Directed by Alena Adler Filmed and Edited by Alexander Vaughn (Alekso) Miller Actors : Mr. Mann: Garry Evans Mary: Alena Adler Introduction: Nicolas Viau Musicians : Piano: Étienne (Stefano) Laflamme Soprano: Kristina Miroshkina
Absolute beginners and curious persons are always welcome!
Every two wednesdays at Joe's Garage: 18-22:00, Esperanto workshop