Sunday 9 april 2023, Can Dialectics Break Bricks Cinema: La comunidad * 2000 * (Common Wealth) * Directed by by Álex de la Iglesia * 110 minutes * In Spanish with English subtitles. Doors open at 20:00, intro & film start at 20:30.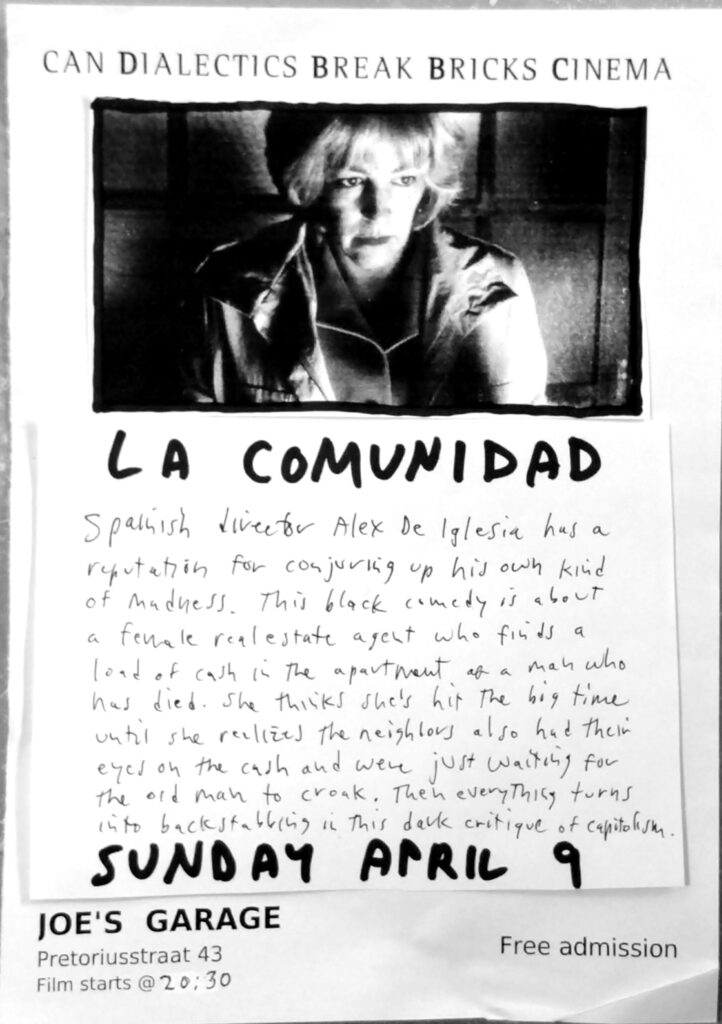 After the dictator Franco died in the mid-70s, Spain became a democracy and people celebrated. But catchwords like 'democracy' and 'freedom' can be tricky, and are often just a feel-good ruse for capitalism. In his own special way, Spain's enfant terrible film director Álex de la Iglesia turns to Alfred Hitchcock to expose the darker aspects of the new Spain.
The premise of this black comedy is dead simple… when a middle-aged real estate agent (Carmen Maura) is sent to sell a Madrid apartment, she accidentally discovers a small fortune (300 million pesetas) a dead neighbor had stashed away. She secretly takes the money, and thinks she has hit a gold mine. This already shows a kind of Hitchcockian twist, revealing the murderous greed under the surface of bourgeois everyday life. But when it turns out the neighbors also had their eyes on the cash and were just waiting for the old man to croak, things really go nuts, turning the tale into a brutal farce of secret plots, dirty deals and backstabbing.
Director Alex De Iglesia has a reputation for conjuring up his own brand of madness, cranking his movies so tight they become over-the-top absurd. This approach goes against the grain of most flicks these days that wallow in a cesspool of graphic violence. When De Iglesia uses violence there is always an aspect of flamboyant panache that saves it from becoming too serious. In the end this is a punchy black humored critique of neo-liberal capitalism, bordering on a horror film. Winner of 3 Goya awards, including one for the lead actress Carmen Maura.
This will be a high-definition screening.
Film night at Joe's Garage, cozy cinema! Free entrance. You want to screen a movie, let us know: joe [at] lists [dot] squat [dot] net