Ma./Mo. 27 feb. 2012, Benefiet for 'Reclaim The Seeds' garden action at the Valreep, Volkseten Vegazulu, 19:00, no reservation, donations welcome.
Check the program and read more about the Reclaim The Seeds action week-end here [http://www.reclaimtheseeds.nl/] and here  [https://joesgarage.nl/archives/2177].
A Very inspiring example of a mobile urban garden is the Berlin project Prinzessinnengarten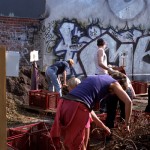 Prinzessinnengärten is a pilot project that started in the summer of 2009 at Moritzplatz in Berlin Kreuzberg, a site which had been a wasteland for over half a century. Along with friends, fans, activists and neighbours, the group cleared away rubbish, built transportable organic vegetable plots and reaped the first fruits of their labour.