Thursday 19th of April, 7pm Queeristan benefiet voku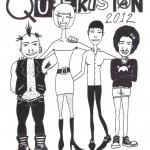 "What is Queeristan? Certainly not a(nother) country. Behind it there is a nomadic collective of activists based in Amsterdam whose interests do not exactly rhyme with law&order, nor with setting up new borders. Nonetheless Queeristan is all about providing a space. Not only an autonomous space that dodges logics of profit and commercialization, but also a platform to both explore and counter the normative workings of gender and identity. A safe environment for queers and a factory of resistance. Our critique departs from the simple fact that buying "normalcy" in the guise of being either male or female, a Dutch or a foreigner, gay or straight, either one or the other, simply means to bedisciplined by a choice made elsewhere, to be docile towards it, to keep your mouth and your eyes shut.
Although Queeristan strives to bring together all sorts of sexual outlaws, we do not want it to be another gay pride: we are not interested in using the beat of our music to celebrate the "integration"of just some queer lives whose skin color, citizenship, cultural and financial means are played as "assets" within a liberal democracy that trades rights as if it were a stock exchange. Instead Queeristan wants to be a festival where dissent unpredictably materializes and becomes shareable in a performance, in a workshop, but also in a work of art, or in partying all night long. There is no fixed formula for Queeristan. There is a togetherness based on affinity with political projects that focus on the body as the site where social aggregation and exclusion can be concretely addressed. Queeristan discerns the battlefield where a geopolitics of consumerism, migration, human rights is enforced. Queeristan resists.
Amsterdam becomes Queeristan the moment we recompose the space we inhabit to uncover the possibility of troubling our private, individual consumer identity. To start using our bodies and intersect the multiple layers of stories and practices that shape them as they tie them to one another."
last year's programme: http://queeristan.org/tag/archive_2011/
Volkseten Vegazulu is every monday and thursday, vegan food for 4€ or donation. All benefits go for social & political struggles. No reservation