Sunday July 8th 2012, Can Dialectics Break Bricks Cinema, THE MILKY WAY 1969 (La Voie lactée). Directed by Luis Buñuel, 101 minutes, In French with English subtitles. High-definition screening. A movie night by guest programmer Jeffrey Babcock. door opens at 20pm,  film starts at 21pm,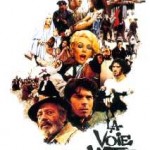 The way that Monty Python was influenced by Luis Buñuel is clear. When Michael Palin wrote the obituary of Buñuel in Rolling Stone magazine, he said that all they were trying to do in their films was be Buñuel. He then listed every Monty Python film and which Buñuell film they were ripping off in each. He said that Bunuel was one of their main inspirations. But at the same time there are differences, in that Buñuel was a bit more intelligent and stylish, where Python was more crass and almost totally non-aesthetic.
In Buñuel's La Voie lactée we follow two clochards (bums, drifters) who are traveling through the countryside on their way to the holy city of Santiago de Compostela, and go into a time warp…. coming across all the dogmas and hypocrisies of Christianity throughout the ages. Filled with absurd images and heretical black humor, the film continues surrealism's attack on normality and blind belief.
One viewer's comment: "One of best movies that analyzes European Catholicism with a Surrealistic microscope. Two allegorical pilgrims on there way to Santiago de Compostela from Paris see 2000 years of Orthodoxy through a series of unrelated vignettes dealing with heresies and anathema.
Get this movie. Pierre Clementi rules as the Destroying Angel! Original language: French with a touch of Spanish and Mystical Latin. I see this movie as the natural sequel to Simon of the Desert. Luis Bunuel, filmmaker, Surrealist Extraordinaire, we'll never see his kind again!"
http://www.imdb.com/title/tt0066534/
TRAILER: click here
Door opens at eight! You are welcome! Film night at Joe's Garage, nice and cozy cinema! Free entrance. You want to play a movie, let us know: joe [at] squat [dot] net