Dinsdag 29 mei 2007 trokken huurders krakers en kraakwachten uit Amsterdam Oost gezamelijk naar de deelraadsvergaring om daar te te protesteren.Huurders en kraakwachten uit de derde oosterparkstraat zouden moeten wijken voor sloop, en nieuwbouw van "DUURwoningen". In de Transvaalbuurt zijn inmiddels 3 kraakpanden bedreigd en ook kraakgroep 'swammerdam sociaal' ziet de bui al hangen. Allemaal zouden ze moeten wijken voor het winstbejaag van zowel particuliere speculanten als corporaties die zich net zo schofterig gedragen. In de raadszaal waren ze ruim in de meerderheid.
Het begon allemaal met een kommetje soep in het Joes garage, een kraakcafetje gevestigd in de eveneens bedreigde Pretoriusstraat 28 in de Transvaalbuurt. Na een aantal toespraken van met ontruiming bedreigde bewoners van genoemde panden trokken een kleine 50 mensen onder meename van spandoeken naar het deelsraadskantoor in de Linneausstraat. Na een korte picketline buiten de deur begaf men zich naar de raadzaal.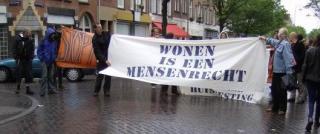 Niet geheel onverwachts (maar toch in uitzondering op het inspreek reglement) kwamen alle bewoners aan het woord. Ondanks het feit dat huurders, krakers en kraakwachten van overheidswege zogenaamd in verschillenen situaties verkeren, was er grote eensgezingheid: men is niet van plan het veld te ruimen voor de beter gestelden, of dat nu de directeuren zijn van de corporatie of doodgewone vastgoedcriminelen zoals de eigenaren van de Pretoriusstraat 28 of het Steve Bikoplein 19. Zelfs niet als de politici dat ooit hebben 'besloten'.
[ inspraak-tekst | video-verslag | reactie van wethouder Princen op het vehaal van PS28 ]