Mo./Ma. January 7th 2013: Volkseten Vegazulu, Swammerdamstraat 12 Benefit, 19:00 pm.
Four times squatted, 3 times evicted… Stadsdeelraad Oost schaart zich achter Swammerdamstraatkrakers http://sw12.squat.net/
Volkseten Vegazulu is a people's kitchen, every monday and thursday, 19:00 PM, vegan food for 4€ or donation. All benefits go for social & political struggles. No reservation.
We're always looking for cooks. Any help is welcome in the kitchen. Experience not required. Enjoying it is a must. If you want to know which days are still available in the schedule, send an email to joe[at]squat.net and book yourself the night. You can, of course, also participate by rolling up your sleeves and doing the dishes.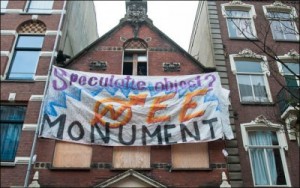 Volkseten Vegazulu https://joesgarage.nl/volkseten-vegazulu