Friday May 10th 2013, Info night: Soura! The ongoing Egyptian revolution and the role of women in the revolution. Info night by Rebelact (the Amsterdam Rebel Clowns). 7pm food, 8pm infonight, free entrance
Since November 19th Tahrir Square has again been occupied and in some major Egyptian cities rebellion and revolution are part of 'everyday life'. Amsterdam Rebel Clowns visited the country three times. With support of People's Kitchen Vegazula and other organisations they organised several workshops and presentations, but more important: connected with people who resist and are in a permanent revolution.
This evening will focus on the Egyption Revolution, how the revolution continues and the role of women in the revolution. You'll hear stories and see videos and pictures about the revolution during the last half year. What kind of groups play a role in this permanent revolution? What does the Egyptian situation make inspiring? What are the 'shortages' in this revolution? Why revolution in Egypt? (and what are the differences with the conditions in the Netherlands).
We're glad, next to a few introductions by Amsterdam rebel clowns, Maro (activist and rebel clown from Egypt) will explain about what's happening in Egypt and the role of women in the revolution. It took 3 months before the Dutch state finally gave her a visa; we're glad and proud she joins!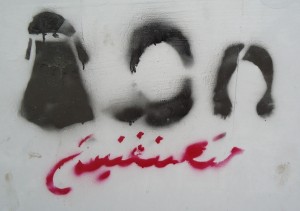 If there's time left we give attention to rebel clowning and creative activism in Egypt. And last but not least: we could also show you pictures of the best political graffiti ever. You'll see how the wall in the Muhammed Mahmoud Street near Tahrir Square in Cairo changed into an impressive monument for the martyrs of the Revolution.
We'll end this evening with exchange of thoughts: your questions and contributions to discussion about Soura / Revolution are warmly welcome!