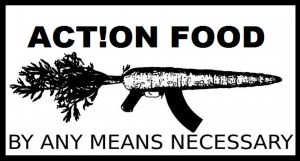 Thursday December 10th 2015, Act!on Food benefit. Volkseten Vegazulu, 7pm.
Act!on Food is a vegan cooking collective based in Sofia, Bulgaria. Founded in 2012 to cook for political punk gigs, social and political events, lectures, workshops and screenings. They are a drug-free collective who uses consensus decision making and focus on anti-capitalist, anti-authoritarian struggles and animal liberation. Recently part of our humble cooking kit was confiscated by local authorities during a Food not Bombs action.
On Thursday 26th November we attempted to cook in the street for homeless people as we had the energy and some leftover products from the border point action. We picked up some extra ingredients, loaded the van and headed for the same place as the last 'Food Not Bombs' action.
We also had an appointment with a journalist who contacted us, willing to do a piece about the initiative. At around 11 o'clock we set up our tables, pot and burner at the park next to the Central Baths.
We put water to boil and started chopping. Just 20 minutes later three policemen approached us asking us if we have a permission to cook there. Apparently someone called in reporting our 'suspicious' activities. After some arguing we were told to gather our stuff and leave. We stalled to wait for the journalists.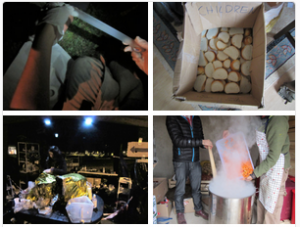 Soon after they arrived and were chatting with us, getting familiar with the situation and getting some shots. As they went live, some of us gave a quick interview and the situation was filmed and reported on the lunchtime news.
During this time we continued to give out carrots, apples and bread to the people who were disappointed that they would not be getting a hot meal. The police were not happy with us doing this, and made us remove the crates of food so that people could take for themselves. We continued by handing out the food individually, rather than people being able to see and take for themselves. Wanting to document what was happening, we took some pictures of the scene. The police stood over us and made us delete every photograph we had taken, even if their faces were not in the picture.
We then decided to proceed by moving equipment back to the car. However the cops had changed their mind and told us to leave the stuff where it is so that the council people can come, inspect and fine us.
Nonetheless we moved the gas bottle and some tables away. That made the police quite unhappy and they threatened arrest. One of us then decided to ignore their 'orders' and picked up yet another crate full of potatoes. He then got handcuffed and arrested. All this was filmed by the TV crew who were still hanging around. The person was detained for three hours during which he was threatened, deceived, strip-searched.
Several hours after we initially arrived (the amount of time we would have cooked enough soup to feed at least 100 people) there are not 3 but 8 police officers surrounding us and waiting for the municipality people to arrive.
Finally after a long wait inspectors from Sofia Municipality and the Food Agency arrive. They go on and on about how wrong our actions are and then proceed to write fines. 4 in total. They also confiscate our gas burner for some reason. After a jury has reviewed the case the price of the fines will be announced.
Recently they've headed for the borders of Fortress Europe to support a infopoint and provide warm meals, dry clothind and medical supplies to migrants. They are determined to return and support people facing state repression in the near future.
Show your support and help them continue their struggle against state repression and in solidarity with illegalised human beings.
– FIGHT FORTRESS EUROPE – ACAB – NO ONE IS ILLEGAL –
Contact Act!on Food: action-food [at] riseup [dot] net
Volkseten Vegazulu is a people's kitchen, every monday, 7pm, vegan food for 4€ or donation. All benefits go for social & political struggles. No reservation. From September, the people's kitchen is also open on thursday.
We're always looking for cooks. Any help is welcome in the kitchen. Experience not required. Enjoying it is a must. If you want to know which days are still available in the schedule, send an email to joe [at] squat [dot] net and book yourself the night. You can, of course, also participate by rolling up your sleeves and doing the dishes.