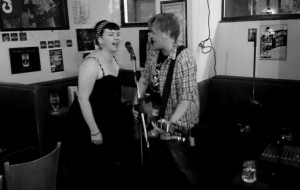 Monday September 7th 2015, Singer songwriters: Bettie Akkemaai and Dave Hughes. Volkseten Vegazulu, 7pm. Music directly after the food, around 8:30pm.

Bettie Akkemaai, acoustic folk-punk with a sweet bite. https://soundcloud.com/bettie-akkemaai. 'Just me, my guitar and my experiences, questions, frustrations and thoughts. Uploaded here might not be the best quality recordings, but hey, if you want to get the best experience, come to one of my shows! A lot louder and less shy on stage.' Bettie is involved at the Knoflook, a squat existing for 10 years in Den Bosch. For the freeshop fanatics, you will appreciate her Het Ruilwinkellied song.
Dave Hughes is a folk singer, originally from just outside Glasgow but now residing in Dundee. He has been playing live for 5 years (with his Renegade Folk Punk Band), and in this time has travelled up and down the UK many times and played with many influential acts. http://www.davehughesmusic.co.uk/
http://davehughes.bandcamp.com/
Bettie Akkemaai and Dave Hughes are teaming again for another tour, this time through Germany and the Netherlands:
– Thursday 3rd September – Fischladen, Berlin (DE)
– Saturday 5th September – 3rd Eifler Folk Punk Festival, Ripsdorf (DE)
– Sunday 6th September – House Party, Den Bosch (NL)
– Monday 7th September – Joe's Garage, Amsterdam (NL)
Volkseten Vegazulu is a people's kitchen, every monday and thursday, 7pm, vegan food for 4€ or donation. All benefits go for social & political struggles. No reservation.
We're always looking for cooks. Any help is welcome in the kitchen. Experience not required. Enjoying it is a must. If you want to know which days are still available in the schedule, send an email to joe [at] squat [dot] net and book yourself the night. You can, of course, also participate by rolling up your sleeves and doing the dishes.