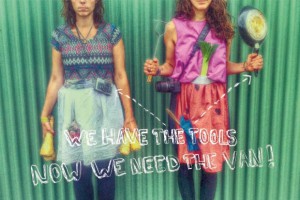 Thursday October 22nd 2015, Bellies beyond borders, benefit for Guerilla Kitchen Amsterdam. Volkseten Vegazulu, 7pm.
Armed with a camera and cooking gear, two girls will go for a peaceful fight against foodwaste and borders. Bellies beyond borders is a creative foodwaste kitchen-on-wheels to welcome refugees in Europe!
Kilos of ugly carrots, one-day-old bread and other abandoned food are rescued from the container by Guerilla Kitchen Amsterdam over the last months. In partnerships with local stores and supermarkets, surplus products are collected to share with the community. Big cooking sessions and free supermarkets fed hundreds of friends and strangers.
This is a story to be continued.. Two girls will leave the headquarters of Guerilla Kitchen Amsterdam to continue the mission on a global scale: Fill bellies not bins – beyond borders!
Whilst people in other parts of the planet struggle to fill their bellies, the West fills up bins with foodwaste. Whilst refugees run away from unsave situations, European governments block their route with walls to protect the Western comfort. The world upside down!
Time to reverse this system and create a scenario of sharing and caring. The female guerilla fighters will share their pots and pans their recepies, and creativity with refugees all over Europe. […Lees verder]