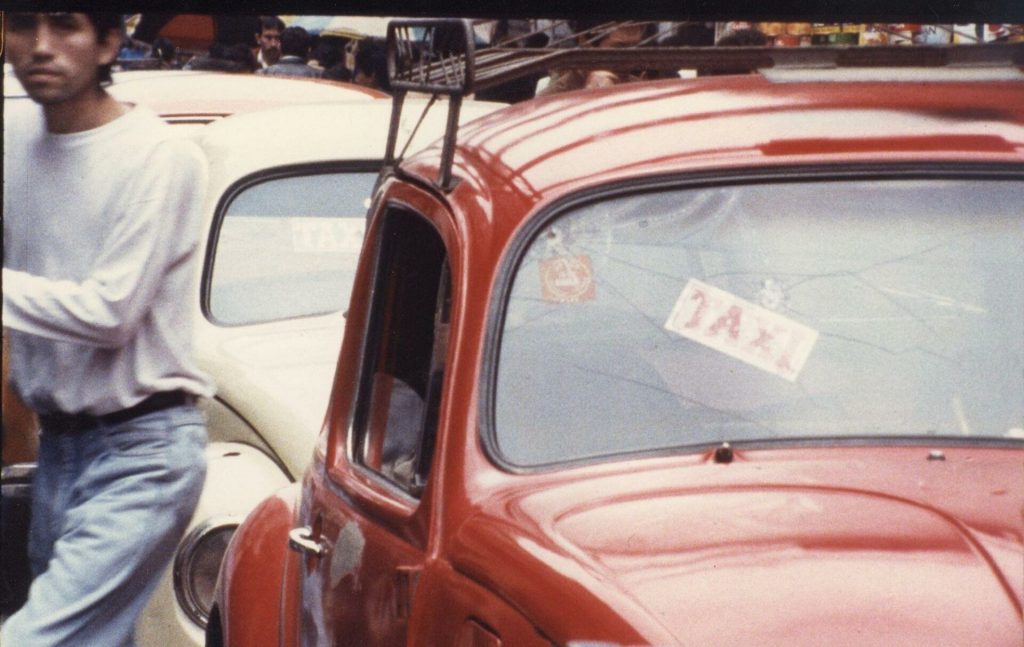 Sunday 25 September 2022, Movie Night: Metaal en Melancholie (Metal y Melancolía) from Heddy Honigmann, 1993, 80 minutes. In Spanish with English subtitles. Doors open at 20:00, Film starts at 20:30.
In Lima, the Peruvian capital of seven million, Heddy Honigmann shares a cab ride with the taxi drivers for whom this occupation is the only way of keeping poverty at bay. More often than not it is their second job, one that requires little more than a car – in whatever state – and a "taxi" plate, which is sold on every street corner. Determined, yet with a precise, measured sense of emotion, the director dissects their situation. A native of Peru, Honigmann returned to her place of birth after almost 20 years to make this film. Shot almost completely from inside the taxis, this documentary road movie reveals beautiful, moving anecdotes. Not only does the film portray these colorful and intriguing everyday people, but it also contrasts their dreams, hopes and disappointments to the state of Peru in the early 1990s. The economy is at an impasse, and teachers, soldiers, doctors and civil servants are part of the middle class in name only. In reality, their salaries are insufficient to feed their families; hence their need for second jobs. Still the rebellious and passionate drivers keep their spirits up, even if their vehicles often look less cheerful.
The film beautifully explores the disconnect between the peruvian people and their authoritarian government in the 90s. At the same time, the movie also explores the strange ways the lower class of taxi drivers experiences the ruling elite and interacts with them.
Film night at Joe's Garage, cozy cinema! Free entrance. You want to screen a movie, let us know: joe [at] lists [dot] squat [dot] net