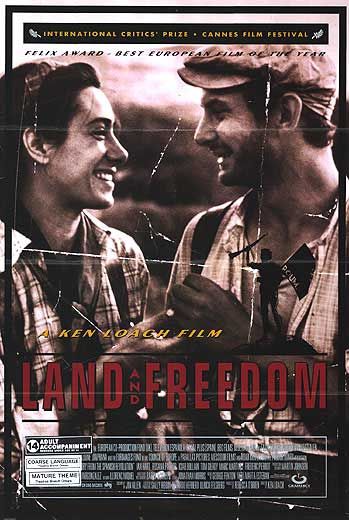 Sunday March 6th 2016, Black Cat Cine presents Land and Freedom (Tierra y Libertad) by Ken Loach, UK 1995, 109 minutes, English subtitles. Door opens at 8pm, film begin at 9pm. Free admission.
A fascinating depiction of the Spanish Civil War and the internal struggle between different factions (Stalinist, Marxist, anarchist). David Carr from Liverpool, the protagonist, wants to join the International Brigades but coincidentally ends up enlisted in an anti-soviet POUM militia on the Aragon front.
Master of social engagement movie director Ken Loach creates a strong and deeply moving portrait of young people involved in the horrors of civil war and shows how a clash of convictions can destroy a movement from within.
Interesting to know: according to Ken Loach, the most important scene of the film is the debate in an assembly of a village successfully liberated by the militia. People from the actual village where the film was shot play peasant parts and express their thoughts freely (despite language difficulties), and a debate ensues about whether or not to collectivize the village land and that of a recently shot priest.
Film night at Joe's Garage, cozy cinema! Doors open at 8pm, film begins at 9pm, free entrance. You want to play a movie, let us know: joe [at] squat [dot] net