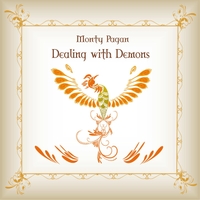 Monday September 28th 2015, Concert with Monty Pagan Duo. Volkseten Vegazulu, 7pm. Music directly after the food, around 8:30pm.
Ken Parsons on lead vocals, guitar and celtic harp is joined by Mick de Neeve on cello and vocals – the two have played for years on the circuit in Amsterdam and have a wild and eclectic range of songs, covers (both well known and obscure) and original songs. Sara Reith from Aberdeen has played fiddle and tin whistles in Monty Pagan for a few years. Ken and Sara perform Ceilidh sets at events like Burns Suppers so fans of traditional music can expect some great tunes. Rosy de Blecourt sometimes joins in on harp, saxophone and beautiful backing vocals but she is expecting her first child so she may be otherwise occupied. You can expect kicking dance ditties and exquisitely structured ballads from the new 'Dealing with Demons' CD. Mad stories, poems and comedy is also in the mix.
Ken Parsons is a Celtic Harper, singer and allround entertainer. What can you expect? Beautiful harp songs, deadly witty short poems and crafted original songs in every posible style, funny, moving, thought provoking" Ken is multi-instrumental and with 20 years of singing experience he has a powerful and versatile voice- you can detect his background as a trained choir singer in his more delicate emotional songs but the next minute you hear the raucous harsh, punk, rock and roll and comedy voice he perfected after years as busker and entertainer in pubs and clubs. His own songs are well honed and he does covers as they should be done. Few singers can match his delivery, diction and rapid fire lyricism. http://www.littleelfrecords.com/
Volkseten Vegazulu is a people's kitchen, every monday and thursday, 7pm, vegan food for 4€ or donation. All benefits go for social & political struggles. No reservation.
We're always looking for cooks. Any help is welcome in the kitchen. Experience not required. Enjoying it is a must. If you want to know which days are still available in the schedule, send an email to joe [at] squat [dot] net and book yourself the night. You can, of course, also participate by rolling up your sleeves and doing the dishes.