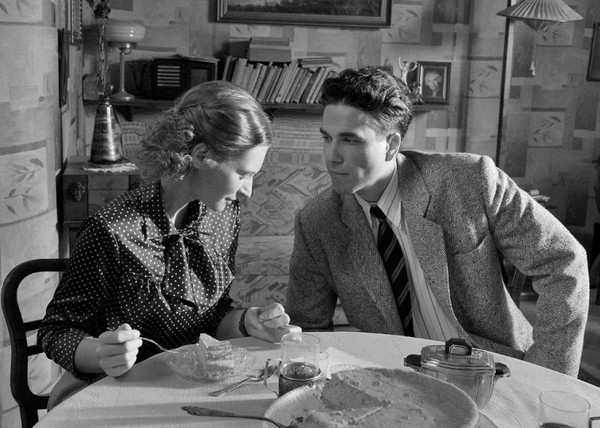 Sunday September 29th 2019, Reverse / Rewers (Borys Lankosz, 2009). 90 minutes, in Polsih with English subtitles. Doors open at 20:00, Film starts at 20:30
Darkly satirical comedy, it took 60 years for Poles to be able to laugh about Stalin. This film was a cult hit in Poland. A new wave of young directors is shaking up the sometimes staid and moralistic universe of Polish cinema.
This film is set in Warsaw in the 1950s, with a few flash-forwards to present-day Warsaw. The main character is Sabina, a quiet, shy woman who has just turned thirty, and lives with her mother and ailing grandmother. Sabina lacks a man in her life, and her mother tries hard to find a husband for her. The grandmother, an eccentric lady with a sharp tongue from whom no secret can be concealed, also gets involved. Successive admirers arrive at their small, but tasteful apartment in an antebellum house, but Sabina shows no interest in any of them.
One night, appearing out of nowhere, comes the charming, intelligent, and good-looking Bronislaw. Bronislaw is apparently interested in Sabina, and courts her, and Sabina falls hopelessly in love with him. But when Bronislaw reveals that he is a member of the secret police, and wants Sabina to spy on her boss at the state-run publishing house, things go from bad to worse to macabre. Sabina, her mother and her grandmother are fortunately up to the challenge, revealing a darker side to their otherwise affable personalities.
Film night at Joe's Garage, cozy cinema! Free entrance. You want to play a movie, let us know: joe [at] lists [dot] squat [dot] net