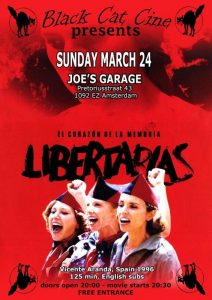 Sunday March 24th 2019, Libertarias (Vicente Aranda, 1996), 131 minutes, in Spanish with English subtitles. Doors open at 20.00, film at 20.30.
Spain, 19 July 1936. The revolution has begun in a city near Barcelona. María, an innocent young nun, flees her convent when revolutionaries invade the area and finds refuge in a brothel. Here she meets a group of "Libertarias," anarchist militia women who are fighting not only Franco, but also the conservative attitudes toward women that prevail as well in the revolutionary ranks. The group is led by hard-liner Pilar, whose seconds-in-command are the clairvoyent Floren and the big-hearted prostitute Concha. Pilar quickly feels a strange fascination for this young nun whose father is a fascist. On their way to the front, the group runs into a defrocked priest who joins up with them and falls in love with María. There are three main locations: the vicinity of Barcelona, the trenches, and Saragossa. Aranda describes the daily existence of these anarchist freedom fighters, not without a touch of humor, as in the scene when Floren does an imitation of Linda Blair in The Exorcist. When the protagonists arrive in Saragossa, the streets are strewn with bodies and weeping women. María catches her first glimpse of the face of war and her sympathies, despite her background, go out to the freedom fighters. The defrocked priest arrive with the strange news that the anarchist leader Durutti has forbidden women to go to the front: the militarisation of politics has won out over utopian ideals.
Libertarias is an epic of sorts that mixes documentary, tragedy, romance, comedy, objectivity and introspection in order to dramatize not only a war for freedom, but also a more underground struggle, the war between the sexes.
Film night at Joe's Garage, cozy cinema! Free entrance. You want to play a movie, let us know: joe [at] lists [dot] squat [dot] net