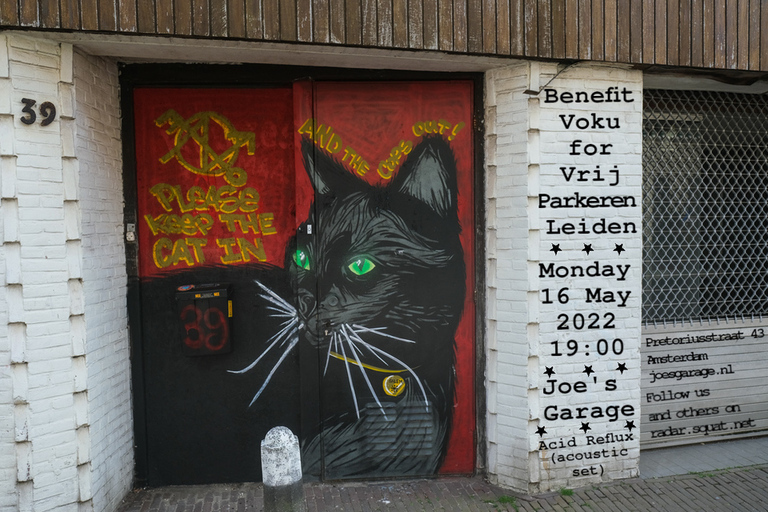 Monday 16 May 2022, Benefit Voku: Vrij Parkeren Leiden. Volkseten Vegazulu. Food served from 7pm, no reservation. From 9pm, music on the stage, acoustic set with Acid Reflux (Leiden).
Vrij Parkeren Leiden on the Van der Werfstraat 39 in Leiden has been squatted since February 2022. This new squat was made public during the 'Woonrevolutie' housing demonstration on 13 February 2022 in Leiden. Actually, it's not the first time this house would have been squatted. Maybe the third time over many years? Unfortunately, there is almost but nothing to read on their website https://vrijparkerenleiden.blackblogs.org/, not even a statement from the February squat action.
Recently, the VPL crew found again their way to Joe's Garage and finally gave some news after such a long silence. The squat is still there and the owner would be threatening to start a court case. Two benefit events have been announced. The first one at De Ontsporing on May 4th, the second one at Joe's Garage as announced here https://squ.at/r/8o2p, "Currently we are working on renovating the building and we are organizing smaller events for now".
All your donations during these benefits events will go to legal proceedings and maintenance of the squat. A good opportunity to get some fresh news from the VPL crew and get to hear what's happening in Leiden.
There is a bit more to read about the Woonrevolutie demo and Leiden on this website https://woonrevolutie.blackblogs.org/
Volkseten Vegazulu is a people's kitchens existing since the very beginning of Joe's Garage, June 2005. Your donations are welcome. Food is vegan, no reservation. All benefits go to social & political struggles. Joe's Garage is a space run by volunteers. Without a collective effort, without your active participation, we're remaining closed. Get in touch in you feel like giving a hand. We're always looking for cooks. Any help is welcome in the kitchen. Experience not required. If you want to know which days are still available, mail us.