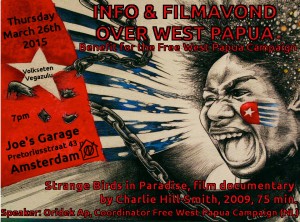 Thursday March 26th 2015, Info/filmavond over West Papua, Benefit for the Free West Papua Campaign, Volkseten Vegazulu, 7pm.

FREEDOM IS NOT FREE IN WEST PAPUA
For decades West Papua's tribal people have been killed, raped, arrested and tortured by Indonesian soldiers and police. The international community has done nothing to stop them. Indonesian president Joko Widodo (Jokowi), so-called Indonesian Obama, will not bring positive changes to Papuans, but death and destruction. Free West Papua Campaign is raising awareness about what is really happening in West Papua. Papuans are fighting for their survival as a people.
Film documentary: Strange Birds in Paradise
Speaker: Oridek Ap, Coordinator Free West Papua Campaign (NL) […Lees verder]