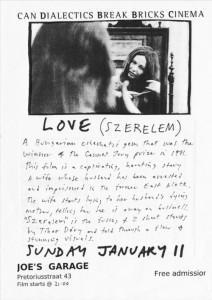 Sunday January 11th 2015, Can Dialectics Break Bricks Cinema by Jeffrey Babcock: Szerelem (Love). Directed by Károly Makk, 84 minutes. In Hungarian with English subtitles. Door opens at 8pm, film begins at 9pm.
Filmmakers in Hungary have made some real cinematic gems, but rarely are they ever screened. Winner of the Jury prize at Cannes in 1971, and recently voted the 12th best film in the history of Hungarian cinema, Szerelem is a captivating, wrenching, haunting depiction of East block existence in the 50s. When a man is arrested and imprisoned by the government for no apparent reason, his wife lies to her husband's dying mother, telling her he is abroad shooting a film in New York. This beauty of a film deals with themes of commitment, faith, and even the ethics of telling lies… how far can someone go with lying?
Szerelem is the merging of two short stories by the famous Hungarian writer Tibor Déry. The real magic though is in it's sublime cinematic mood. It's visual style is sober with a chill of fear in the air, but at the same time poetically edited with flashes of memories and other realities. Riveting, poignant and told in a flow of stunning visuals, this will be a rare screening of one of cinema's small, neglected masterpieces.
Film night at Joe's Garage, cozy cinema! Doors open at 8pm, film begins at 9pm, free entrance. You want to play a movie, let us know: joe [at] squat [dot] net