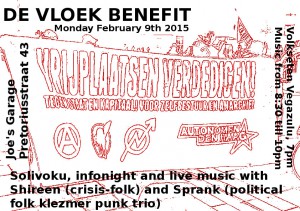 Monday February 9th 2015, De Vloek Benefit, Solivoku, infonight and live music with Shireen (crisis-folk) and Sprank (political folk klezmer punk trio), Volkseten Vegazulu, 7pm. Music from 8:30 till 10pm.
"Hell no, we won't go! De Vloek moet blijven!" De Vloek, squatted autonomous social center in Scheveningen, [http://devloek.nl/] existing since 2002, is threatened to follow the same fate as De Blauwe Aanslag in 2003. The city of Den Haag who hates squatters and put all its energy to criminalize them, has nonetheless postponed the eviction until the beginning of April 2015. Since the plans of the city to flatten the Vloek came public, actions and demonstrations took over. A symbol of a failure for the city, De Pier, was occupied for few hours last August. From Den Haag till Greece, solidarity banners popped up. Other militant actions took place, spontaneous demonstration, occupation of the city council. The mayor even forbade a demonstration beginning of December. During the Action Days at the end of the year, people took again the streets and a former tax office building owned by the city was squatted and in no time illegally evicted by the riot police, 40 activists were arrested.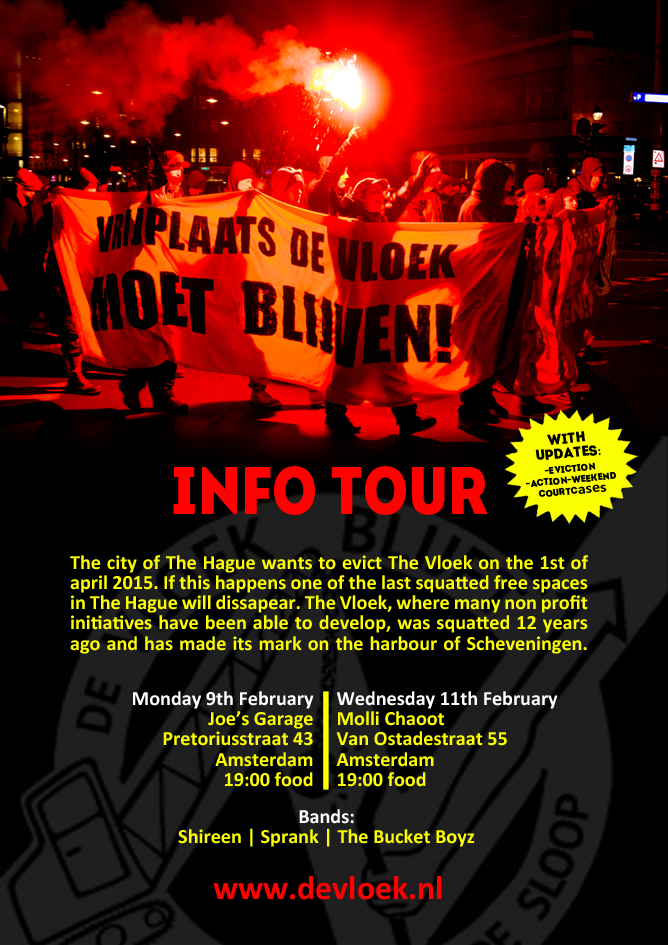 Be on time for the food! On the stage, Shireen and Sprank [https://sprankband.wordpress.com], from 8:30 till 10pm.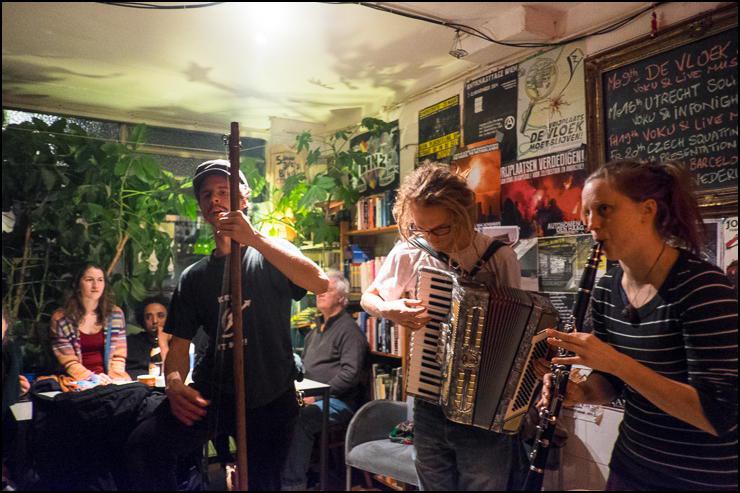 Shireen plays Crisis Folk! "I made up the name 'Crisis Folk' to give a name to the type of songs that I like to sing. Many crises manifest themselves in the traditional folk-songs that I like to borrow, like excessive drinking, poverty and violence.
Alongside these songs, I sing about other, more contemporary crises. About Europe becoming more and more like a fortress with the ever increasing border controls and violent repression of the 'sans-papiers' and 'no border' activists. Or the damage that is done to ecosystems in search of profit. Of course these are love songs too. As you cannot fight without loving.
Lately I have been playing my music on the streets of many different countries on my slow travels back to Europe from South East Asia, making up a few new songs on the way."
'Ordinary Heroes' played by Shireen @ Autonoom Centrum, Den Haag 2013 from Shireen Lilith on Vimeo.
Volkseten Vegazulu is a people's kitchen, every monday and thursday, 19:00 PM, vegan food for 4€ or donation. All benefits go for social & political struggles. No reservation.
We're always looking for cooks. Any help is welcome in the kitchen. Experience not required. Enjoying it is a must. If you want to know which days are still available in the schedule, send an email to joe[at]squat.net and book yourself the night. You can, of course, also participate by rolling up your sleeves and doing the dishes.
Volkseten Vegazulu https://joesgarage.nl/volkseten-vegazulu