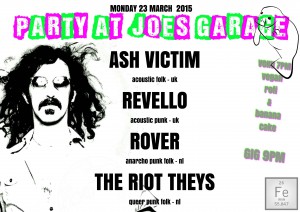 Monday March 23rd 2015, Acoustic gig & Volkseten Vegazulu, 7pm. Live music till 10pm!
Rowdy Acoustic Punk Invasion in the Nederlands: The Riot Theys, Rover, Revello & Ash Victim are gonna get all rowdy in yo squat.
ASH VICTIM – acoustic glam folk http://ashvictim.bandcamp.com/
REVELLO – acoustic punk http://revello.bandcamp.com/
ROVERRR- anarcho-punk folk http://roverrr.bandcamp.com/
THE RIOT THEYS – queer punk folk https://soundcloud.com/theriottheys
There will be VEGAN ROTI as main course and BANANACAKE WITH ICECREAM as dessert.
Volkseten Vegazulu is a people's kitchen, every monday and thursday, 7pm, vegan food for 4€ or donation. All benefits go for social & political struggles. No reservation.
We're always looking for cooks. Any help is welcome in the kitchen. Experience not required. Enjoying it is a must. If you want to know which days are still available in the schedule, send an email to joe[at]squat.net and book yourself the night. You can, of course, also participate by rolling up your sleeves and doing the dishes.