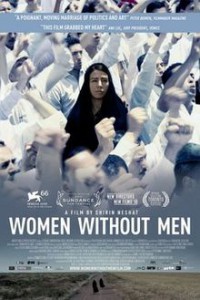 Sunday April 12th 2015, Iranian Movie night: Women Without Men by Shirin Neshat (2009, 95 minutes). In Persian with English subtitles. Door opens at 8pm, film begins at 9pm. Free admission.
Neshat offers an exquisitely crafted view of women rights today in Iran as compared to Iran in 1953, when a British- and American-backed coup removed the democratically elected government. The Women Without Men movie was adapted from the novel by Iranian author Shahrnush Parsipur, the film weaves together the stories of four individual women during that time, whose experiences are shaped by their faith and the social structures in place. The film grants audiences the opportunity to explore the lives of four women and the beautiful countryside of Iran, where Neshat explores the social, political, and psychological dimensions of her characters as they meet in a metaphorical garden, where they can exist and reflect while the complex intellectual and religious forces shaping their world linger in the air around them. Looking at Iran from Neshat's point of view allows us to see the larger picture and realize that the women and human rights community resembles different organs of one body, created from a common essence. Women Without Men was filmed in Morocco, with Casablanca standing in for Tehran, Iran. The film originated as a video installation by the filmmaker/artist, Shirin Neshat.
Shirin Neshat is an Iranian-born artist and photographer whose work explores gender issues in the Islamic world. Women without Men is Neshat's first dramatic feature. Neshat, banned from even visiting Iran since 1996, lives and works in New York City. Neshat left Iran in 1979, just before the Revolution took down the monarchy.
Cast: Shabnam Tolouei, Pegah Ferydoni, Orsolya Tóth, Arita Shahrzad, Zar Amir Ebrahimi, Bijan Daneshmand, Mehdi Moinzadeh.
More info here: http://womenwithoutmen.blog.indiepixfilms.com/
Film night at Joe's Garage, cozy cinema! Doors open at 8pm, film begins at 9pm, free entrance. You want to play a movie, let us know: joe [at] squat [dot] net