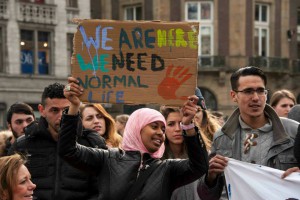 Monday May 25th 2015, Benefit for We Are Here with the screening of Wij Zijn Hier, a documentary by Alexandra Jansse (Xela Films, 2015, 65', in English with Dutch subtitles). Volkseten Vegazulu, 7pm.
A new documentary narrating the story of one of the most vibrant movements in the Netherlands.
Wij Zijn Hier, a self-organised refugee group in Amsterdam. Screening will take place after the people's kitchen, with the presence of director Alexandra Jansse and an activist of We Are Here.
Trailer of the film: https://vimeo.com/124522574
De worsteling van 220 vluchtelingen die maar één wens hebben: een menswaardig bestaan opbouwen in een land waar vrede heerst.
Het is September 2013 als het lopen door de binnenstad van Amsterdam begint voor 220 vluchtelingen die zich in het zogenaamde 'asielgat' bevinden in Nederland. Zij protesteren tegen het feit dat hun asielverzoeken werden afgewezen. In een aantal gevallen zijn ze naar de rechter gegaan en hebben hun beroep verloren. In andere gevallen loopt er nog een beroepsprocedure. Voor vrijwel allemaal is er een onaantastbaar besluit van de Nederlandse overheid, dat inhoudt dat ze geen asiel krijgen en dus Nederland moeten verlaten.
Omdat het de overheid in de praktijk echter niet lukt om ze uit te zetten worden ze op straat gezet. Al jaren worden deze mensen achtervolgt door een voortdurend knagende onzekerheid over hun recht op bestaan. Het beklemmende gevoel als ratten in de val te zitten is een vorm van zekerheid geworden die zich kenmerkt door een stuitend bestaan. Kans op terugkeer naar hun vaak zo geliefde familie is voor hen geen optie omdat daar marteling, gevangenisstraf of soms zelfs de dood wacht.
Alexandra, gedreven om een inkijk te geven in de schrijnende situatie waarin deze mensen zich bevinden, wil met deze film de denkbeeldige muren slechten en hun persoonlijke situatie in alle openheid belichten. De politiek lijkt onvermurwbaar. In 'WIJ ZIJN HIER!' schetst Jansse de worsteling en rauwe werkelijkheid van deze groep asielzoekers die maar een wens heeft namelijk: een menswaardig bestaan op te bouwen in een land waar vrede heerst.
Xela Films | Nederland | 2015 | 65' | Nederlands, Engels gesproken | Nederlands ondertiteld.
Regie en camera: Alexandra Jansse
Editor: Elly Safari
Assistent editor: Twan da Silva
Eindredactie: Joyce Maas
Geluidsmix: Jaim Sahuleka
Producent: Xela Films
Volkseten Vegazulu is a people's kitchen, every monday and thursday, 19:00 PM, vegan food for 4€ or donation. All benefits go for social & political struggles. No reservation.
We're always looking for cooks. Any help is welcome in the kitchen. Experience not required. Enjoying it is a must. If you want to know which days are still available in the schedule, send an email to joe[at]squat.net and book yourself the night. You can, of course, also participate by rolling up your sleeves and doing the dishes.