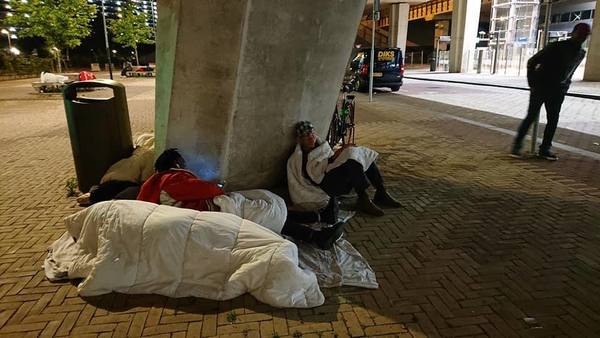 Thursday October 24th 2019, Benefit & info in support of the undocumented refugees of We Are Here. Volkseten Vegazulu, 7pm.
In May of this year we proved by visiting the Family Loket (Vreemdelingenloket) that:
– there was no shelter at all for 'new' (who were not already in a shelter) undocumented refugees in Amsterdam;
– it was not possible at all to registrate on a waitinglist for the 24Hours shelter;
– even very sick people only could come on a waitinglist.
All this was confirmed in a mail of the Family Loket (Vreemdelingenloket) to us.
We tried to get proof from the Family Loket (Vreemdelingenloket) that we had been there to registrate. We offered the Loket a declaration to sign that we had been there.
This was very important for us. Because:
The refugees, without income, would not have to go in vain to the Loket;
Owners of squatted places, the OM (OpenBaar Ministerie), Prosecution Counsel, judges, mayors, Media kept saying there WAS a shelter. This was very harmful for us in courtcases, evictions, media and public opinion.
The Loket refused to give that declaration.
There was nowhere to go for us, no place to be, except the street or a squatted place. On the street and in parks we were hunted by the police, sleeping in tents became prohibited and the same with selling a magazine for some pocket money.
In our need we squatted less appropriate places…
We asked the Family Loket (Vreemdelingenloket) and also the City Board to be clear about the fact that there was no shelter, including no possibility to registrate for the 24Hours shelter.
We started our correspondence with the municipality, directing the Mayor and alderman Groot Wassink. Mrs Anne Klerks answered our mail in name of alderman Groot Wassink. (please see below)
At the end of our correspondence with Mrs Klerks the City Board still refuses an emergency shelter and also refuses to care for the refugees on the street and in squatted places.
But it seems there is now a waiting list for the 24Hours shelter.
The 24Hours shelter should have started the 1th of July but it did not. Than the guidance should have started the 1th of July. But it did not. The only thing that happened seems to be that one tries to get rid of the Dublinclaimers in spite of promesses to this group.
The Dublin Regulation is a seriously criticised system by an organisation as UNHCR because it is unfair for the countries where refugees first arrive and against the human rights of free choice for the refugees. By accepting the Dublin Regulation the 24Hours shelter starts with a defeat against human rights before it has even been started.
We ask more than ever for an Emergency Shelter for undocumented refugees, for our immediate need, but also to avoid that we have to be such a long time in the streets and in squatted places that the 24Hours shelter will be a place for sic people only.
---
Dringende Financiële noodhulp voor vluchtelingen die geen kant op kunnen en niets krijgen van staat of stad (September 22, 2019)
Beste mensen,
Hoe kan dat: aan vluchtelingen die niet terug kunnen geen verblijfsvergunning geven, wel een verbod op werk, geen inkomen, geen onderdak, geen kleding, geen voedsel, geen onderwijs?
Het kan blijkbaar: zogenaamde ongedocumenteerde vluchtelingen zijn om te overleven volledig afhankelijk van particulier initiatief.
Ze waren met 65, vluchtelingen uit Afrikaanse landen, die april van dit jaar in Uilenstede 475, een 5 jaar lang leegstaand gebouw in het gebied Uilenstede/Kronenburg in Amstelveen, waren getrokken. Het gebied gaat volledig op de schop, het visieplan was kort daarvoor door de gemeenteraad aangenomen, het zal jaren vergen dit te realiseren en in de tussentijd is er vanalles mogelijk, ook voor ongedocumenteerde vluchtelingen. Dat hoopten ze, zeker toen de eigenaars ze aanboden tot 31 juli te blijven en te willen nadenken over een langere periode. Maar ze werden bedrogen, zowel door de eigenaars als door de staat, en de staat maakte het hun zelfs onmogelijk om tegen de rechterlijke uitspraak in hoger beroep te gaan. […Lees verder]