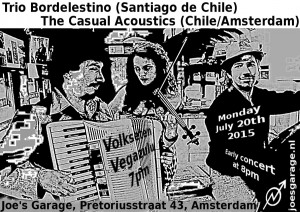 Monday July 20th 2015, Volkseten Vegazulu, people's kitchen, door opens at 7pm. Infonight with speakers from ISM-Palestine at 8pm. Concert with Trio Bordelestino (Santiago de Chile) and The Casual Acoustics (Amsterdam), gypsy jazz tango bossanova. Early concert!

Informatie avond met sprekers van ISM-Palestine
Woordvoerders van ISM Palestine zijn op Europa-tour, en zullen van 18 tot 22 juli in Nederland zijn (ook dinsdag 21 juli, op de ADM, Info-night about situation in Palestine). Er zijn een aantal bijeenkomsten georganiseerd, waar geïnteresseerden kennis kunnen maken met de doelstellingen, het werk, de geschiedenis, de toekomst en de mogelijkheden om deel te nemen aan het vrijwilligerswerk van de International Solidarity Movement in Palestina (Nablus, Hebron, Ramallah, Gaza).
Spreken zullen o.a.:
– Mariam Barghouti, journalist, student aan de Universiteit van Bir Zeit en bekend van de actie Free.mariam.barghouti (2014) en haar artikelen in de internationale pers: https://ramallahbantustan.wordpress.com
– Karam, longterm vrijwilliger van ISM-Palestine
– Een woordvoerder van de ISM-NL supportgroep.
Videobeelden van het werk van ISM in Palestina zullen getoond worden. Na de plenaire Q&A zal er gelegenheid zijn om te spreken met de aanwezige vrijwilligers van ISM-palestine en ISM-nederland.
Concert with Trio Bordelestino and The Casual Acoustics.
Trio Bordelestino, a French/Chilean acoustic band formed in Santiago of Chili in 2011, by members Lolita Ponce, violin and vocals, Javier Valdebenito, double bass, and David Santis, accordion and vocals. Their repertoire ranges from tango, to French chanson; from Italian canzonetta and tarantella, to Chilean waltz and tonada; from Balkan music, to jazz, and to their own songs which melt those music genres with stories and poems. The use of acoustic instruments has made us a constant presence on the streets, in Chile, Brasil, France and Italy. http://bordelestino.cl/ https://soundcloud.com/bordelestino/
The Casual Acoustics are based in Amsterdam. Trio with Vicente (guitar), Hernan (bass), and one clarinet. Inspired by Tchavolo Schmitt, Django Rheinhardt and south american music with a touch of bossanova.
Desde el año 2011 en la ciudad de Santiago de Chile, Itinerantes y desenchufados, Bordelestino transita por la música italiana, la música gitana, el klezmer y el tango con la soltura que le entrega la ubicuidad de sus instrumentos. El trío formado por Lolita Ponce (violín), Javier Valdebenito (contrabajo) y David Santis (acordeón), surge en la búsqueda del equilibrio entre tocar mucha música y vivir de ello. Ninguno de sus instrumentos depende de la electricidad, por lo que pudiste habértelos encontrado tocando en la calle, orquestando una velada romántica en una trattoría o como maestros de ceremonia en matrimonios y fiestas. "Nos une el defender la idea de un proyecto acústico, el desafío de proponer un sello propio en los estilos y la interpretación, con la voluntad de transformar Bordelestino en una experiencia musical sin fronteras y en una orquesta elegante y cálida", señalan. Su repertorio arreglado y seleccionado minuciosamente, incluye temas de Goran Brejovic, Edith Piaf, Piazzolla y algunas joyas de la música italiana como "Tu vuo fal americano" de Renato carosone y, busca crear una "conjugación entre gustos personales de estilos y canciones, querer marcar un carácter único e irrepetible en cuanto a músicas del mundo. Con esto nos acercamos a un gusto popular sin tener que interpretar músicas o estilos que no son de nuestro agrado", cuentan. Con la comodidad de poder viajar y sonar en cualquier lugar, se han presentado en escenarios de diversas características dentro de Chile como en sus viajes a Francia, Italia y Brasil, en donde su repertorio y propuesta de show siempre ha tenido muy buena recepción del publico. Actualmente el grupo tiene 3 discos editados de forma independiente, "canta Napoli", "Una Estrella" y "Demo", la banda apuesta por salir de gira y entrar nuevamente al estudio de grabación. "Estamos trabajando en canciones y pensando en incorporar más composiciones propias y nuevos estilos al Trío", adelantan.
Volkseten Vegazulu is a people's kitchen, every monday and thursday, 7pm, vegan food for 4€ or donation. All benefits go for social & political struggles. No reservation.
We're always looking for cooks. Any help is welcome in the kitchen. Experience not required. Enjoying it is a must. If you want to know which days are still available in the schedule, send an email to joe[at]squat.net and book yourself the night. You can, of course, also participate by rolling up your sleeves and doing the dishes.