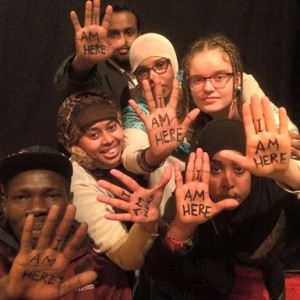 Thursday October 15th 2015, Benefit for We Are Here. Volkseten Vegazulu, 7pm. One woman from We Are Here will take the microphone and sing!
On May 29th 2015, after a long juridical battle, Wijn Zijn Hier was leaving the Vluchtgarage in Zuid Oost. Police used excessive violence against demonstrators protesting in front of the city hall, arresting 7 refugees. Before this incident, on April 15th, another building was liberated on the Sande Bakhuijzenstraat 2, in West. This new home was known as the Vlutchttoren. A verdict had stated that this building could be used until end of August. On June 4th, 80 refugees from Wij Zijn Hier squatted Pieter Calandlaan 1, a former city council office in Slotervaart. On August 23rd, a former art school on the Dapperstraat in Amsterdam Oost was squatted and taken over by Wij Zijn Hier. The group of refugees was asked by the owner, the Amsterdamse Hogeschool voor de Kunsten (AHK), to leave the building before September 1st. So they did and as soon as they were gone, the owner moved in a few anti-squatters. On September 30th, Wij Zijn Hier was leaving the Vluchttoren and are now looking for housing.
On Friday October 16th, the Wij Zijn Hier refugees are calling for a demonstration at 13:00 in front of the Vredespaleis in Den Haag. Between 14:00 and 16:00, there will be an exhibition about the situation in Yemen.
Wij Zijn Hier http://wijzijnhier.org/
Volkseten Vegazulu is a people's kitchen, every monday and thursday, 7pm, vegan food for 4€ or donation. All benefits go for social & political struggles. No reservation.
We're always looking for cooks. Any help is welcome in the kitchen. Experience not required. Enjoying it is a must. If you want to know which days are still available in the schedule, send an email to joe [at] squat [dot] net and book yourself the night. You can, of course, also participate by rolling up your sleeves and doing the dishes.