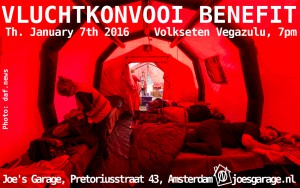 Thursday January 7th 2016, Vluchtkonvooi Benefit. Volkseten Vegazulu, 7pm.
Who are we? We are a group of individuals from Amsterdam, united under the name Vluchtkonvooi. Since september of this year we have organised several trips to the southeast of Europe, in order to help stranded refugees on their way to their end destination. We are all from various backgrounds, but we agree on the fact that in this context of crisis, we need to engage with everyone who needs help. We're curious about the people we will meet on our convoys. What are the stories of the refugees we meet? How can we pass these stories on to European residents, so that people will choose to welcome them? While lending a hand, we're trying to find answers to these very important questions.
What We Do? As a refugee convoy, our aim is threefold. First, we will be bringing humanitarian aid supplies to stranded refugees coming to Europe. Second, we will be providing logistical help along their often harsh journey. Third we will provide help to voluntary groups locally. In doing so we hope to provide a small sense of relief and a feeling of being welcome in Europe.
Volunteer– Our work consists of short-term direct help on the places it is most needed. We therefore cannot say exactly when we will come into action on forehand. However, since we are a small organisation, we depend fully on volunteers to make our missions possible.
Vluchtkonvooi http://vluchtkonvooi.nl/
Please Support Us… By donating to: NL08INGB0002245329
N H van Teijlingen under mention of "Vluchtkonvooi"
Volkseten Vegazulu is a people's kitchen, every monday, 7pm, vegan food for 4€ or donation. All benefits go for social & political struggles. No reservation.
We're always looking for cooks. Any help is welcome in the kitchen. Experience not required. Enjoying it is a must. If you want to know which days are still available in the schedule, send an email to joe [at] squat [dot] net and book yourself the night. You can, of course, also participate by rolling up your sleeves and doing the dishes.