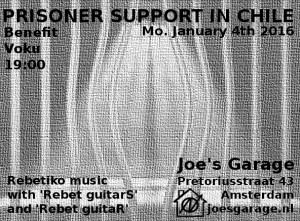 Monday January 4th 2016, Prisoner support in Chile, Benefit voku. Rebetiko music with 'Rebet guitarS' and 'Rebet guitaR'. Volkseten Vegazulu, 7pm.
'Joseba' is a comrade from Chile, currently under house arrest until his trial beginning of 2016. He was arrested on 2014 under charges of transporting an incendiary device. He was accused, under false testimonies, of participating in a firebomb attack. Due to personal finances, the case was given to a public defender from the state. Thanks to this lawyer's irresponsibility and disinterest in the case, necessary legal procedures were never completed and during a routine probation visit, Joseba was arrested a few months ago and put in jail. The state wanted to keep him in preventative imprisonment until his trial in 2016, but thanks to the pressure generated by friends and comrades they were able to change his preventative imprisonment for house arrest.
Earlier in February of 2015, the Chilean state modified the arms control law to classify molotov cocktails as the same as a firearm, increasing the penalties for their use or transportation. In July, 5 students were arrested for a 2014 molotov attack against a station of the PDI (Policía de Investigaciones). During the September 11 demonstrations in memory of Chile's brutal 17 year long military dictatorship, two students were arrested and charged with transporting an incendiary device. While Joseba's case came before the approval of this new repressive legislation, it is obvious that the Chilean state is trying to make an example of cases involving molotov cocktails in order to damper the anarchist and social struggles in this country, making it especially important to support comrades while the state equips itself with ever more repressive laws.
When Joseba's trial comes, he will be facing a sentence of up to 5 years and one day. In order to hire a private and sympathetic lawyer for his case, we need to raise money that is impossible for him to raise on his own while under house arrest. Because of this, we are asking for solidarity and monetary support from any and all anti-prison comrades. Thank you!
'Rebet guitaR' – Charis Konstantinou
Rebetiko, the music crossroad between middle east and west from the early 1900's. Songs about love, joy and sorrow. A musical sub-culture, a music of the lower classes.
"The womb of rebetiko was the jail and the hash den. It was there that the early rebetes created their songs. They sang in quiet, harsh voices, unforced, one after the other, each singer adding a verse which often bore no relation to the previous verse, and a song often went on for hours. There was no refrain, and the melody was simple and easy." Ilias Petropoulos
Rebet guitar, focuses on the early Rebetiko with one guitar, finger-pick style.
'Rebet guitarS' – Jaap Faber and Charis Konstantinou.
A guitar duet, will present the music of the legendary "Kostis", the most enigmatic of all greek rebetika artists. 12+1 songs of truly unique guitar duets and black-humor lyrics chronicling the hash dens, prison culture and pickpockets of old Athens. Recorded in 1930-31 on 78 rpm records, under a pseudonym for export to the greeks living in America, research has uncovered the musician, journalist and cartoonist Kostas Bezos as the figure lurking behind the Kostis name, with ties to the famous singer and producer Tetos Demetriades.

Rebet guitar-"Ντερτιλήδικο" @ Molli, Amsterdam, April 2015.
Volkseten Vegazulu is a people's kitchen, every monday, 7pm, vegan food for 4€ or donation. All benefits go for social & political struggles. No reservation.
We're always looking for cooks. Any help is welcome in the kitchen. Experience not required. Enjoying it is a must. If you want to know which days are still available in the schedule, send an email to joe [at] squat [dot] net and book yourself the night. You can, of course, also participate by rolling up your sleeves and doing the dishes.