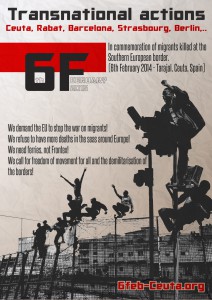 Monday February 15th 2016, All Included Benefit, Volkseten Vegazulu, 7pm.
All Included Amsterdam for freedom of movement, the right of residence for migrants and fair development, is taking part in the action in Rabat/Morocco commemorating the 2nd anniversary of the massacre of Ceuta of the 6th of February 2014 when the Guardia Civil shot at least 15 sub-saharan migrants on Tarajal beach trying to reach the EU. "We are activists from collectives, associations, initiatives and various social movements. We fight for freedom of movement for all! We are from Cameroon, Syria, Mali, Eritrea, Senegal, Spain, Germany, Tunisia, Morocco, France and many more countries. We don´t accept any more deaths in the Mediterranean. We know it is possible to 'live together' and to consider a political system of equality and respect for human rights, because we have been building solidarity networks for years. The happenings on the 6th of February 2014, when the Spanish Guardia Civil killed at least 15 persons, who entered swimming to Ceuta, are not only spanish or morrocan issues, they are global issues. So, we united us in a common transnational struggle for the demilitarisation of the borders, the freedom of movement and global justice."
LET US ALL JOIN THE 6TH FEB ACTIONS AND THE STRUGGLE FOR DIGNITY,
JUSTICE AND FREEDOM OF MOVEMENT!
STOP THE WAR AGAINST MIGRANTS!
NO WORLD WITHOUT MIGRATION!
NO BORDERS!
All Included Amsterdam is a new initiative that fights for freedom of movement and for the right of residence for migrants. In a time when globalization is a fact, migration should be recognized as part of a package deal. It's All Included. This means: no illegality, no detention for undocumented migrants and no forced evictions.
With the disappearance of national borders, national identity disappears. Everyone becomes global citizen and deserves regardless of origin equal rights and equal opportunities. Therefore also for migrants 'all included' rights and obligations.
Allincluded.nl fightsg for an open society through extra-parliamentary action which intervenes in the political climate of assimilation, closeness and fear. Through direct assistance to rejected asylum seekers and other migrants without residence permit, indictments against abuses of current polities are being propagated. We want to contribute to the public debate with alternative visions of migration and globalization based on open borders, solidarity and initiative from the base.
All Included, Plantage Doklaan 12, 1018 CM Amsterdam http://www.allincluded.nl
No Borders Morocco https://beatingborders.wordpress.com/
CALL for mobilization: 6th of February transnational actions: https://beatingborders.wordpress.com/2016/01/25/call-for-mobilization-6th-of-february-transnational-actions/
Volkseten Vegazulu is a people's kitchen, every monday, 7pm, vegan food for 4€ or donation. All benefits go for social & political struggles. No reservation.
We're always looking for cooks. Any help is welcome in the kitchen. Experience not required. Enjoying it is a must. If you want to know which days are still available in the schedule, send an email to joe [at] squat [dot] net and book yourself the night. You can, of course, also participate by rolling up your sleeves and doing the dishes.