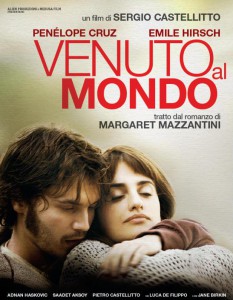 Sunday February 14th 2016, Special Valentine's Day movie. Black Cat Cine presents Venuto al Mondo from Sergio Castellitto, (Italy/Spain, 2012, 127 min, English subtitles). Door opens at 20:00, movie starts at 21:00. Free admission.
'Venuto al Mondo' is a romantic drama directed by Sergio Castellitto, based on a novel by Margaret Mazzantini, set partly during the Balkan wars of the early 1990s.
Middle-aged Gemma (Penelope Cruz) returns with her 16-year-old son Pietro (Pietro Castellitto) to Sarajevo at the invitation of her old friend Gojko (Adnan Haskovic), once the heart of a vibrant group of artists, poets and philosophers. While sullen Pietro resists the impulse to delve into his origins, insisting he was born in Sarajevo "by mistake," Gemma's return to the scene of her greatest love stokes potent memories and conflicted emotions.
Not many movies get such extreme ratings: it was panned by the critics but loved by the audience (7.4 on IMDB). I liked it very much, especially the beautiful photography (excellent historical reconstruction of a debased Sarajevo under siege) and the great acting of Penelope Cruz. Also a good soundtrack with Nirvana and Bruce Springsteen. Come and see/hear for yourself!
Film night at Joe's Garage, cozy cinema! Doors open at 8pm, free entrance. You want to play a movie, let us know: joe [at] squat [dot] net