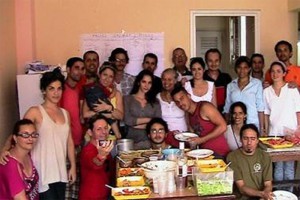 Monday February 8th 2016, Benefit for the new anarchist/libertarian Social Center opening in Cuba. Volkseten Vegazulu, 7pm. Music (Tim Loud & X Ray Cat from Leeds, UK) from 8:30 till 10pm!
The borders are opening after many years, and changes in Cuba predict new possibilities and dangers for the Cuban society. It is essential, therefore, reinforce the work of those that from Cuba defend a critical, anti-capitalist and antiautoritarial system-world , the same machine expressed every day more clearly in the national life.
After more than a decade of social and political activism in the Critical Cuban Observatory and five years as part of the Alfredo Lopez Libertarian Workshop (Tlal) , we have identified as the main difficulty for our performance and expanding for our social impact, the lack of a permanent base, which allows to build community and shape our identity stronger and lasting way.
Who we are?
The TLAL is a specifically anarchist collective, which has hold a systematic activity in recent years, radicalizing their proposals and keeping a strong anchorage in Cuban society and their communities. We have succeeded in a short time to ser the annual Libertarian Spring Meeting in Havana, where we seek to merge thought and anarchist or libertarian action on the island. In addition, we issued a modest printed newspaper, Tierra Nueva!, with some troubles we tried to bring our critical vision to ordinary people, that which is majority and do not have access to Internet in Cuba, as well as promoting libertarian, anarcho-syndicalist, and naturist ideals, present in the country's history before the insurrectional victory in 1959, and whose impact beats hidden in the interstices of the now a day Cuba.
Moreover, we have embarked in major organizational efforts, along with other comrades in the region. Has been the foundation of the Central American and Caribbean Anarchist Federation network in March 2015 containing a large expansion and development potential.
Maintain this pace of projects and actions requires a physical space to come together, rehearse in practice show solidarity, cooperatives, horizontality, self-organization and autonomy.
What do we look for?
Given the imposibility to rent any space in Cuba, the option we propose is to buy a property, house or apartment, to found our Libertarian Social Center and Library.
Besides being the permanent headquarters of the Alfredo Lopez Libertarian Workshop TLAL for meetings and other activities, the local will host a Libertarian Library. This will be made with materials accumulated for years product of national, international, gifts or personal purchases. Will include all kinds both periodical or unique of publications, compact discs (CD-ROM) and DVDs, films, audio, etc. physical or digital publications. Priority will be given to those related directly or indirectly with anarchism, but also attend other related to social struggles throughout history, from any political perspective or area of topics creation.
In other hands will take place typical Social Centers activities: conferences, events, meetings, group meals, presentations of texts, parties, video debates, meetings with foreign and domestic visitors from other provinces, concerts, readings, exhibitions, production, among others.
How much do we need?
For the purchase of local need euros 12,000. However, on our recent visit to France and Spain, thanks to the solidarity of libertarian comrades, we collected more than 1,000 euros. That's why, for the present crowdfunding, we are soliciting contributions to reach € 11,000 (eleven thousand euros).
Why do we ask?
Because we do not receive any state, government institution, or NGO funding. Nor do we wish to receive, to ensure our complete independence and non-subordination to any external agenda. Sometimes we have received donations from groups and individuals related to our principles, selflessly and unconditionally. Neither our practices generate any profit, rather the opposite. It is also known that with the average Cuban salary ($ 20 monthly), it is impossible to cover the high cost of housing in Cuba, no honest worker without exploiting others can afford.
Who will receive the direct benefit of the work of Libertarian Social Center and Library?
First, all who are part of the Tlal, and work without pay in that space, including the people who live there directly, and they take care of the premises.
Tlal outside, it is the community who first receive the benefits, as we intend to establish links with this, and make our space available. We can not understand a project of this type, detached from their immediate circumstances and people around him.
Also linked to the Critical Observatory Cuban projects in which we stay engaged, have a safe space in this office, to further consolidate its work.
Moreover, Cuban and international students and researchers will mainly in the Library a unique and valuable source of information.
It goes without saying that both libertarians and anti-capitalist visitors arriving to the island, and others in need of solidarity, have no place in our Center.
What we will return to donors?
We have not a lot of material to give in return, but our gratitude and good vibes. Of course, donors will have a space in our facilities in Cuba and access to all the center's services.
Furthermore, if allowed, we will include their email on our mailing list so they will receive the Cuban libertarian newspaper New Earth!
For those who want to publish their names, we have a list of acknowledgments on our website with those who helped realize this endeavor. We will send to each donor a detailed report of the use given to the collected funds.
Your cooperation is decisive, if we want to promote the anti-capitalist and libertarian ideal in Cuba and the Caribbean.
https://www.gofundme.com/gg2wrcac
Volkseten Vegazulu is a people's kitchen, every monday, 7pm, vegan food for 4€ or donation. All benefits go for social & political struggles. No reservation.
We're always looking for cooks. Any help is welcome in the kitchen. Experience not required. Enjoying it is a must. If you want to know which days are still available in the schedule, send an email to joe [at] squat [dot] net and book yourself the night. You can, of course, also participate by rolling up your sleeves and doing the dishes.