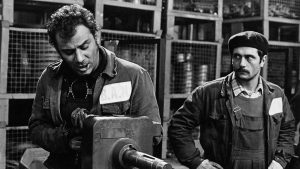 Sunday 4 november 2018, Can Dialectics Break Bricks Cinema. Doors open at 20:00, Film starts 20:30.
THE WORKING CLASS GOES TO HEAVEN 1971
(La classe operaia va in paradiso)
Directed by Elio Petri
111 minutes
In Italian with English subtitles
This long-forgotten flick by cult Italian director Elio Petri (Investigation of a Citizen above Suspicion, The 10th Victim) received top honors at Cannes in 1972. It's a gut-level, sex-and-politics view of industrial capitalism focusing on a factory worker (Gian Maria Volonté) caught up in the wheels of assembly-line production and mass consumption. It's the sexual fantasies that he has which fuels Lulu's productivity for the company, but his perspective on work and life undergo a radical transformation when he looses his finger in a factory accident and is temporarily laid off. Along with his finger he also loses himself – everything he had believed in and dedicated his life to. That's the set-up of this film, and I won't go into how everything unfolds afterwards. The alternative title is Lulu the Tool (there was a time when workers actually used tools; then there came a time when workers became tools).
Here we clearly see the impact of the May '68 upheavals… and although all of this may sound dry and grim, in the hands of a superb director like Petri, an absurdist sense of black humour bursts to the surface from time to time. Petri chooses his aesthetics, both visually and musically, to reflect the working conditions found in factories, which ends up being both surreal and aggressive. The cinema vérité camerawork is by Luigi Kuvellier, production design is by the future Academy Awards winner Dante Ferretti, and it is graced with a darkly dissonant music score by the legendary Ennio Morricone. Besides starring Gian Maria Volonté, this hard-hitting gem also features Mariangela Melato.
Film night at Joe's Garage, cozy cinema! Free entrance. You want to play a movie, let us know: joe [at] squat [dot] net