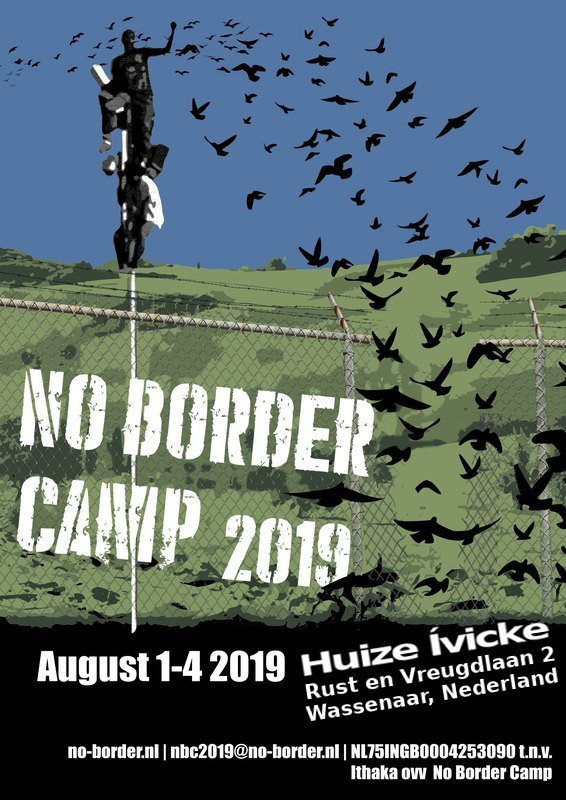 Monday July 29th 2019, Mobilisation No Border Camp 2019 during the Volkseten Vegazulu. 7pm, no reservation.
Last news and updates about the upcoming No Border Camp 2019 [http://no-border.nl/] which takes place from 1st till 4th august 2019 in Wassenaar at Huize Ívicke. The address is Rust en Vreugdlaan 2, 2243AS Wassenaar. The call out in various languages is available through this page. Talks and workshops are now publicly announced.
Restricting migration is a priority for the Dutch government and the EU. The walls of Fortress Europe are rising taller, rescue missions by aid organisations are counteracted, and refugees are locked up and deported. Thousands of people die in the Mediterranean Sea or in the desert, or they are stuck in horrible conditions. Politicians instigate hate against refuguees, while  weapons-companies are in the mean time making big money on militarising borders. Rich Western countries keep fueling the reasons why people flee through unequal trade, weapon exports, causing climate change, and military interventions.
Reason enough to take action. Come to the No Border Camp in the beginning of August, for workshops, meeting people and actions on a extraparliamentary and anti-authoritarian basis. To build bridges to other intersections of struggle, like anti-racism, decolonisation, queer- and trans struggle, climate action, anti-militarisation, and the struggle of migrants themselves for their rights.
The No Border Camp 2019 in the Netherlands will take place from August 1-4. The location will be announced just before the start of the camp due to safety reasons. It will take place in the provice of Zuid-Holland in the Netherlands. Keep an eye on the website or send an email to be updated about the location! If you want to help with the organisation of the camp or just one or two small tasks, please also send us an email! If you want to help us out financially, you can make a donation to the bankaccount that's on the poster. Everything (both financially and organisation-wise) is  very much appreciated.
Joe's Garage is always looking for cooks. Any help is welcome in the kitchen. Experience not required. Enjoying it is a must. If you want to know which days are still available in the schedule, send an email to joe [at] lists [dot] squat [dot] net and book yourself the night. You can, of course, also participate by rolling up your sleeves and doing the dishes.