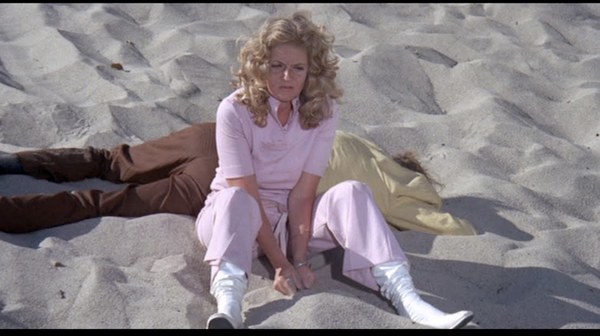 Sunday July 21st 2019, Can Dialectics Break Bricks Cinema: Bone (Larry Cohen, 1972). 95 minutes. In English. Doors open at 20.30, Film starts at 21:00.
This film is one of my biggest recent cinematic surprises…..it really knocked me off my chair with amazement! Maverick director Larry Cohen (It's Alive) would later make surreal horror films, but his debut was something totally different….and probably the finest film in his career. Bone is a film like no other, a quirky black comedy which takes on the subject of racism in a bizarre and unexpected way.
The plot focuses on a Beverley Hills couple- a used car salesman, and his wife Bernadette. The couple seem to have it all – but one small unpredictable incident happens which throws their lives into chaos, and exposes the poverty behind the facade of their lifestyle. What is that incident? One day a black man named Bone appears in their back yard. This starts a chain reaction of events which is nothing short of amazing. This razor-sharp film stands out from a lot of other 1970s stuff simply because its such a bizarre mix, and also because of the unpredictable way in which the plot plays out. Also, its cutting-edge sense of humor comes close to Tarantino, except this film also has deeper insights and something more relevant to say.
Bone is clearly an attack on racism, but above everything else its a film about how people lie to themselves in order to keep up a certain lifestyle. The film is radically un-PC, but at the same time it's one of the most politically correct films I have ever seen. Of course the major studios wouldn't even touch such a wild-card film, so it was thrown into the drive-in circuit and quickly deleted from film history. BONE is an obscure underground masterpiece, starring a brilliant Yaphet Kotto (Alien, Blue Collar)… and although Koto is usually great in everything he does, in this small independent film he gives the best performance of his life. Seen now, 40 years after it was made, this movie is not only relevant – its a startling revelation.
Film night at Joe's Garage, cozy cinema! Free entrance. You want to play a movie, let us know: joe [at] lists [dot] squat [dot] net