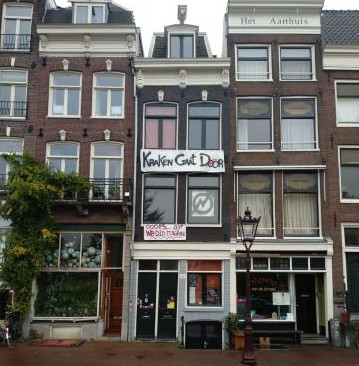 Monday 18th and Thursday 7th November 18th 2019, Benefit for Oops…Amstel45 legal costs. Volkseten Vegazulu, 7pm.
Sunday, 22-09-19 we successfully squatted the building at Amstel 45. The owner of this building is the biggest real-estate owner of Amsterdam and an speculator. There have been buildings owned by Veldhuijzen squatted before, Amstelkade 20 (2016), Admiraal de Ruijterweg 76 (2008). Johannes Cornelis Martinus Veldhuijzen is the owner of 512 properties in Amsterdam, he has more buildings on his name than Prince Bernhard van Oranje Nassau! (see for details the Parool article mentioned below). We know the building has been empty for 2 years and currently there is a building stop, which means the owner is prohibited to work on the building any further and he also doesn't have any plans for the building at this moment.
We are against vacancy, leaving buildings empty and left to rot, and we squat because of vacancy! During the first week of occupation, we didn't have any contact with the owner. Wednesday the 26 of September, we received the court papers for a fast civil procedure. His story had a lot of inconsistency and no concrete plans and because of this and the new squatting law that is coming, we decided it's a good time to fight back! We went to court on the 1st of October and now we are waiting for the verdict, the 15th of October. The owner himself did not show up in court and he still has shown no willingness to communicate with us in any way. Will keep you guys updated!
Updates the verdict came 16/10/19 evening with an order to leave 19/10/19 morning, after an conversation betwen our lawyer and the owner we got 2days extra and the house was evicted 21/10/19. The verdict also include the legal cost 2029.79e (court case, lawyer of the owner, publication), and the owner demand us to pay everything until 21/10/19.
Dit zijn de grootste spelers op de Amsterdamse vastgoedmarkt – Het Parool, 4 november 2017 https://www.parool.nl/nieuws/dit-zijn-de-grootste-spelers-op-de-amsterdamse-vastgoedmarkt~b5fea4c9/
Wethouder Ivens pleit voor woonplicht in strijd tegen vastgoedmagnaten – At5, 5 november 2017 https://www.at5.nl/artikelen/174940/wethouder-ivens-pleit-voor-woonplicht-in-strijd-tegen-vastgoedmagnaten
Joe's Garage is always looking for cooks. Any help is welcome in the kitchen. Experience not required. If you want to know which days are still available in the schedule, mail us and book yourself the night. You can, of course, also participate by rolling up your sleeves and doing the dishes.