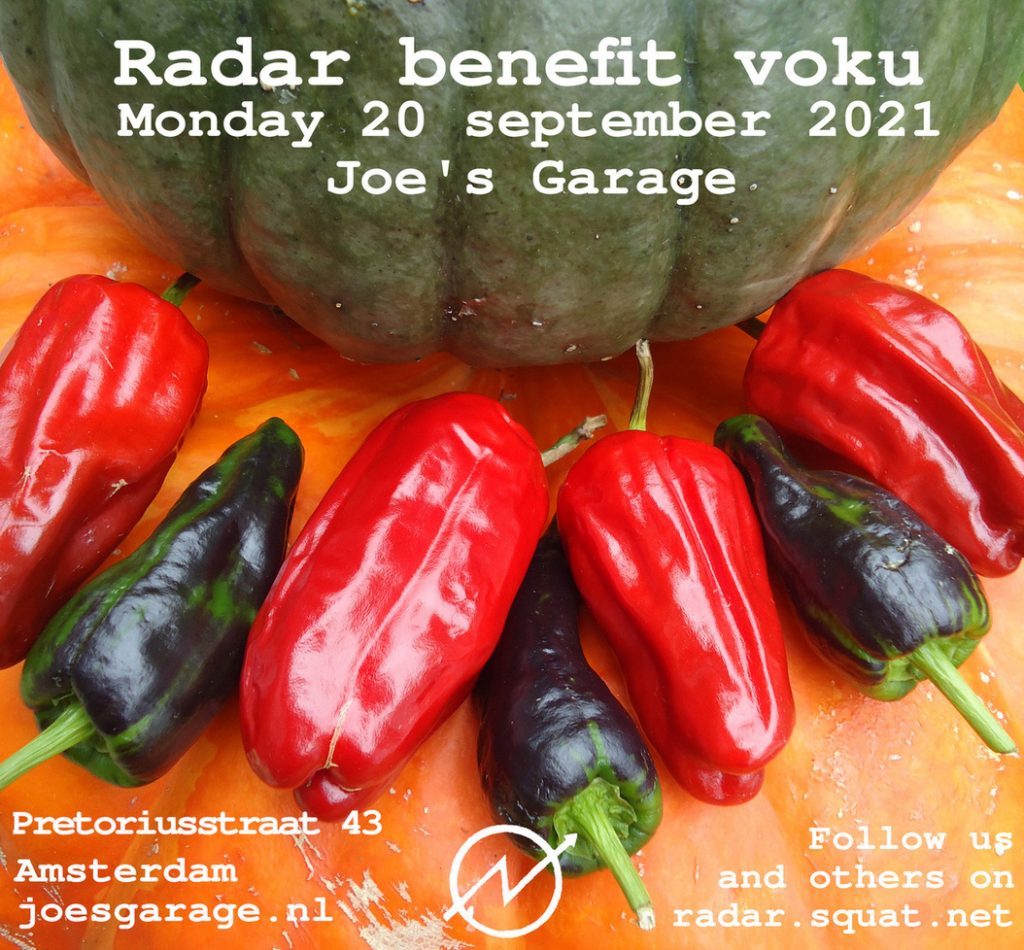 Monday 20 September 2021, Radar benefit, Volkseten Vegazulu. Food served from 7pm till 9pm, no reservation.
Radar an agenda free of commercial interest.
Created by a community of groups announcing their own events, where the dominant power doesn't decide if it's worth a mention.
A tool we build together, to organise, socialise, educate.
A tool designed not to track its users, but break from the 'facebook-like' gated communities and to promote open sharing.
Radar exists for more than 20 years, since the very begining of Squat!net. Cities like Berlin, Zurich and Amsterdam were the first ones to join. The network never stopped expending.
Today in Berlin, Kontrapolis is displaying events originally published on Radar. Other collectives, spaces around Europe saw the same opportunity, for instance Koch Areal in Zurich, Disgaraca in Lisbon, Espace Autogéré in Lausanne, Nattsvart Verkstad in Stockholm, the Barricade in Utrecht.
Today in Amsterdam, various groups are making themselves visible on Radar. Not everybody has been swallowed by corporate facebook and twitter. We can only encourage you to make your collectives, spaces visible on Radar, even more if you are outside the Netherlands. We're eager to know what you're doing through a network like Radar. And if you are near by, come along and support Radar on 7 september at the Molli and 20 september at Joe's Garage.
Volkseten Vegazulu is a people's kitchens existing since the very beginning of Joe's Garage, June 2005. Your donations are welcome. Starting from 19:00 until 21:00, vegan, no reservation. All benefits go to social & political struggles. Joe's Garage is a space run by volunteers. Without a collective effort, without your active participation, we're remaining closed. Get in touch in you feel like giving a hand. We're always looking for cooks. Any help is welcome in the kitchen. Experience not required. If you want to know which days are still available, mail us.