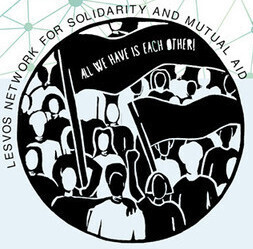 Monday 27 September 2021, Benefit for Lesvos Mutual Aid Network, Volkseten Vegazulu. Food served from 7pm till 9pm, no reservation.
We are a network of comrades and friends active on the Greek island of Lesvos, with ties to collectives and movements that span the globe. We work to build relationships with people on the island, abolishing dominant norms/hierarchies and the socially constructed boundaries between our communities.
As a part of the broader anti-authoritarian movement, we condemn any and all fascist, sexist and racist behavior. We function through our assemblies, where we discuss topics, collectively take decisions and plan actions. We created an environment based on mutual respect where everyone can take part in equal terms, each according to their ability, each according to their needs. Our actions can vary depending on the needs we encounter and the dynamics of the group. We cooperate only with other self-organized structures, like "Women in Solidarity House", "No Border Kitchen", "Binio Squat" and other individuals that are active on the ground.
We as anarchists believe in solidarity that comes from the base and stand side by side with people in need, regardless of whether they come from another country, their age, class, ability, gender, the color of their skin or their sexuality. Here on Lesvos, we participate in multiple initiatives on the ground, all grounded in principles of antiracism, anti-authoritarianism, self-organization and mutual aid, each tackling different aspects of this common struggle.
Volkseten Vegazulu is a people's kitchens existing since the very beginning of Joe's Garage, June 2005. Your donations are welcome. Starting from 19:00 until 21:00, vegan, no reservation. All benefits go to social & political struggles. Joe's Garage is a space run by volunteers. Without a collective effort, without your active participation, we're remaining closed. Get in touch in you feel like giving a hand. We're always looking for cooks. Any help is welcome in the kitchen. Experience not required. If you want to know which days are still available, mail us.