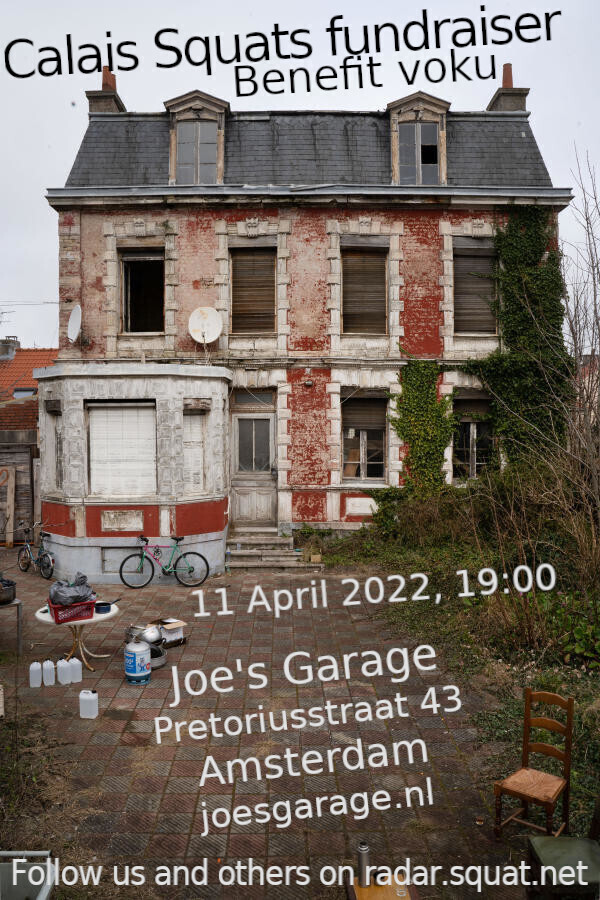 Monday 11 April 2022, Benefit Voku: Calais Squats fundraiser. Volkseten Vegazulu. Food served from 7pm, no reservation.
Earlier this year, activist groups from several countries planned a squatting action in Calais, France. The action was intended to create safe, autonomous housing for people on the move who suffer regular and extreme state violence and repression. Two buildings were squatted under intense police scrutiny. One squat, a tower block of flats, was evicted, with involvement from high-level governmental officials such as Gérald Darmanin. The eviction was carried out by RAID, the tactical police often responsible for anti-terrorist actions, who arrived on a helicopter.
Dozens of people on the move currently live autonomously in the other squat, the 'ghost house' mansion on Rue Frédéric Sauvage. This squat has survived continuing attempts by the state to proceed to an eviction. The money raised from this people's kitchen will go towards the maintenance of this squat and future squatting actions by the activist housing group in Calais.
Volkseten Vegazulu is a people's kitchens existing since the very beginning of Joe's Garage, June 2005. Your donations are welcome. Food is vegan, no reservation. All benefits go to social & political struggles. Joe's Garage is a space run by volunteers. Without a collective effort, without your active participation, we're remaining closed. Get in touch in you feel like giving a hand. We're always looking for cooks. Any help is welcome in the kitchen. Experience not required. If you want to know which days are still available, mail us.