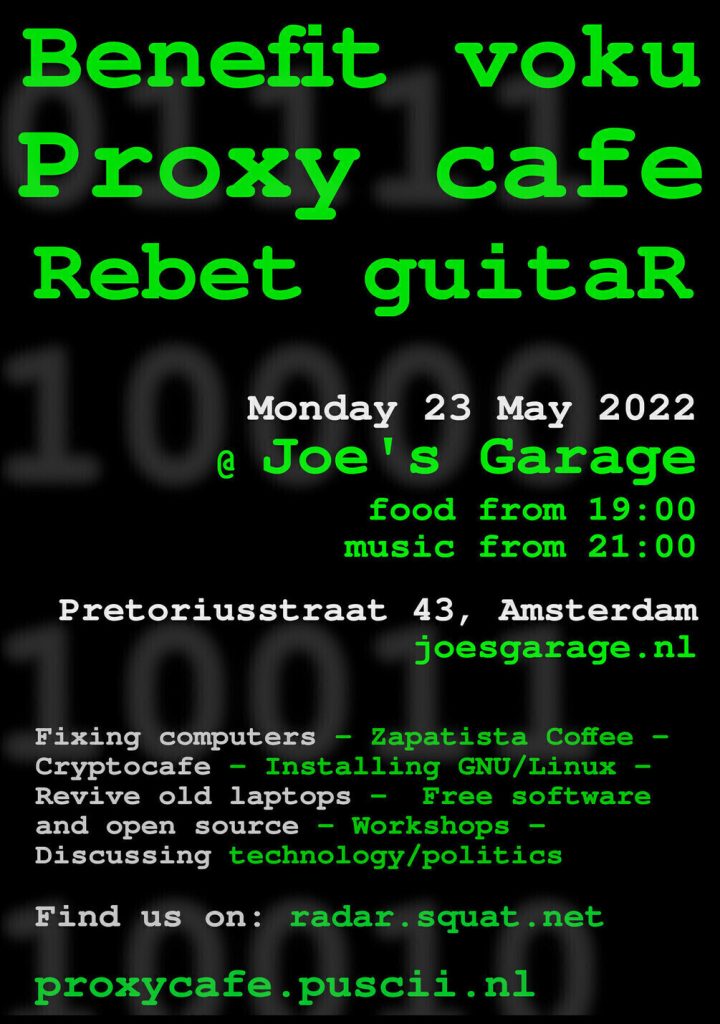 Monday 23 May 2022, Proxy Cafe Benefit Voku. Volkseten Vegazulu. Food served from 7pm, no reservation. From 9pm, music on the stage with Rebet guitaR, at least one person playing Rebetiko.

The Proxy Cafe is mostly happening on Wednesdays from 18:00 till 22:00 at LAG, Joe's Garage and other locations such as the Bowling, and why not in your social space, somewhere else than Amsterdam. Free software workshops. Discussing tech and politics, GNU/Linux, fixing computers and revive old laptops, free and opensource software workshops. Zapatista coffee.
Proxy Cafe, Amsterdam
https://squ.at/r/8i60
https://proxycafe.puscii.nl/
Rebet GuitaR – Rebetiko, the music crossroad between middle east and west from the early 1900's. Songs about love, joy and sorrow. A musical sub-culture, a music of the lower classes.
"The womb of rebetiko was the jail and the hash den. It was there that the early rebetes created their songs. They sang in quiet, harsh voices, unforced, one after the other, each singer adding a verse which often bore no relation to the previous verse, and a song often went on for hours. There was no refrain, and the melody was simple and easy." Ilias Petropoulos
Rebet guitar, focuses on the early rebetiko with one guitar, finger-pick style developed in USA by Giorgos Katsaros(George Curly), Kostas 'Gus' Dousias.
Volkseten Vegazulu is a people's kitchens existing since the very beginning of Joe's Garage, June 2005. Your donations are welcome. Food is vegan, no reservation. All benefits go to social & political struggles. Joe's Garage is a space run by volunteers. Without a collective effort, without your active participation, we're remaining closed. Get in touch in you feel like giving a hand. We're always looking for cooks. Any help is welcome in the kitchen. Experience not required. If you want to know which days are still available, mail us.