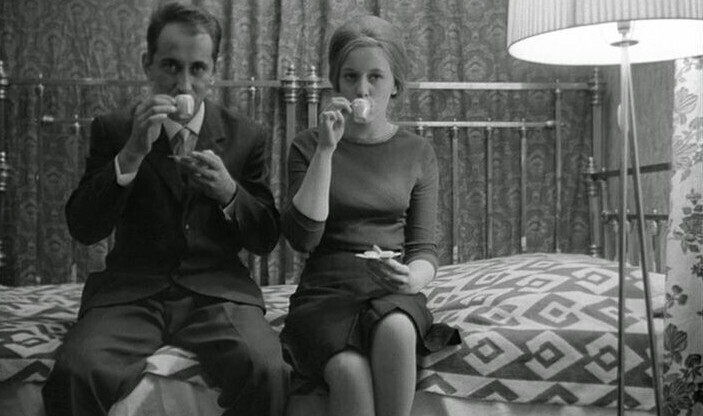 Sunday 29 May 2022, Can Dialectics Break Bricks Cinema: Love Affair, or the Case of the Missing Switchboard Operator (Dušan Makavejev, 1967), 68 minutes. In Serbo-Croatian with English subtitles. Doors open at 20:00, film starts at 20:30.
Once again we will be screening another early film by the amazing Dušan Makavejev. In outline, this is the story of the romance between a young telephonist and a middle-aged rat exterminator that goes haywire. Yet in Dušan Makavejev's hands, this film isn't just a strange story, but becomes an innovative, free-form exploration on the themes of love and freedom… laying the groundwork for a razor-sharp look at relationships in sixties Belgrade. Breaking away from traditional ideas of narrative storytelling, the film often shifts away, for example, to interviews with a sexologist and a criminologist giving their crazed opinions… or suddenly we find ourselves listening to a poem about exterminating rats. This film is based on a true story, and includes some of the most elegant dramatic filmmaking of the director's career.
A free-wheeling movie that mixes romance and satire, documentary footage, melodrama and tragedy. And as always with Makavejev, what we are left with is a bizarre cocktail of Yugoslavian-styled surrealism. This is a true cinema of the imagination. It's one of the crucial films from the Eastern block in the 60s, and it's a very rare screening, so I hope to see you there!
This will be a high-definition screening.
Film night at Joe's Garage, cozy cinema! Free entrance. You want to screen a movie, let us know: joe [at] lists [dot] squat [dot] net