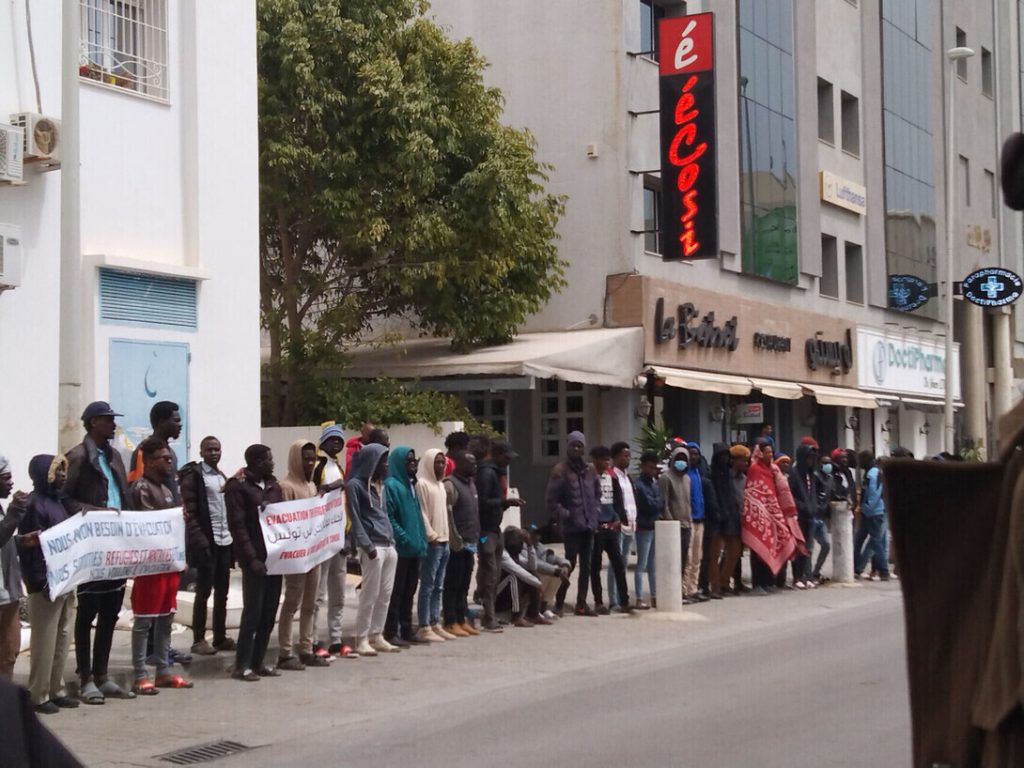 Monday 18 July 2022, Solidarity VoKu for protesting asylum seekers in Tunis. Food served from 7pm, no reservation.
Since February, a sit-in of more than 200 homeless refugees and asylum seekers in front of UNHCR, protesting the lack of international protection. This while Tunisia is considered a "safe country" for refugees according to the United Nations, being a signatory to the 1951 Geneva Refugee Convention. Yet the absence of a comprehensive asylum law and the lack of bureaucratic procedures implementing international conventions, make asylum requests in Tunisia long and complex. Therefore, access to public services is hard. Regular work is scarce, access to schooling is limited, just like the possibility of receiving free medical care.While Europe is making efforts to resettle Ukrainian refugees, hundreds of people fleeing war and persecution are immobilised in Tunisia just like many of refugees and asylum seekers are blocked in North Africa due to European border externalisation policies! Among them there are families with young children who are in urgent need of schooling and medical care. They are currently manifesting to ask for resettlement to a third country: we support them by spreading their voice to help them be heard! The donations will be used to finance a multimedia project (podcast, video and reportage) to improve the manifestant's visibility and other related solidarity projects in North Africa.
https://www.meltingpot.org/en/2022/06/tunisia-living-and-dying-in-rue-du-lac-no-dignity-and-no-rights/
https://www.meltingpot.org/en/2022/05/4-mesi-per-strada-214-persone-rifugiate-o-richiedenti-asilo-chiedono-il-ricollocamento-in-un-paese-sicuro/
Volkseten Vegazulu is a people's kitchens existing since the very beginning of Joe's Garage, June 2005. Your donations are welcome. Food is vegan, no reservation. All benefits go to social & political struggles. Joe's Garage is a space run by volunteers. Without a collective effort, without your active participation, we're remaining closed. Get in touch in you feel like giving a hand. We're always looking for cooks. Any help is welcome in the kitchen. Experience not required. If you want to know which days are still available, mail us.