Vr. 14 Jan. 2011, Info Evening about the Tugelaweg Project. On the end of a three year legal and political struggle… the reality of a permanent social center in the Transvaalbuurt is within arms reach! The Stadsdeel or local Municiplaity has offered new housing union SoWeTo the opportunity to acquire a building on the Tugelaweg. Visionary residents including local housing activists, artists, architects for sustainability and social justice, and urban permaculture gardeners have joined forces with SoWeTo to make it happen. But…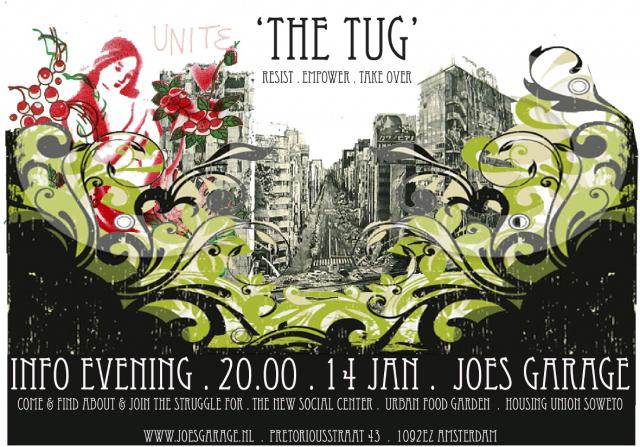 But… . the future is still uncertain, we need to lobby the 'Stadsdeel' and create a broad base political campaign, we need you, and other people like you, to courageously and lovingly make the TUG theirs, to contribute their time and realize their dreams in this promising space and revolutionary model for Urban sustainability; socially, economically, culturally & ecologically.
Come join us and find out in detail what's going on. The night will include presentations about the social center; (which can house a cinema, entertainment podium, library and kitchen), the new Housing Union SoWeTo, the Urban Food garden, the social structure, the story so far, and the sustainable renovation of the building.
Friday January 14th, 20.00, Joe's Garage