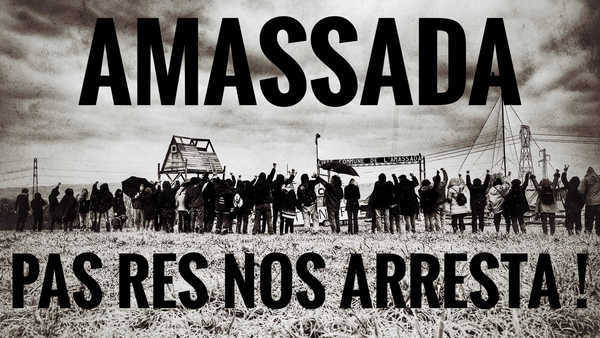 Thursday September 26th 2019, Fundraiser Dinner for the L'Amassada ZAD! Volkseten Vegazulu, 7pm.
You are invited to what will be a delicious dinner—cooked by a renowned vegan chef and crew—for the L'Amassada ZAD at Joe's Garage on the evening of September 26. This dinner (other donated) funds will be dedicated to the people of the Free Commune of L'Amassada (Libre commune de l'Amassada) ZAD recently charged with large trespassing court fines.
L'Amassada is located in Southern France, outside Saint Afrique and in the town of Saint-Victor-et-Melvieu. In 2009, the French State began the process of farmland expropriation by bureaucratic means for RTE (Réseau de transport d'électricité)—the infrastructure wing of Electricity of France (EDF)—to build a mega-energy transformer. In 2013, locals reacted by building a protest camp to block the project that officially turned ZAD after the courts ruled in favored RTE in 2017. This struggle has worsened recently, with an order of expulsion handed against the L'Amassada commune in January 2019. This was followed by over 100 police raiding the area in February, which led to the arrest of five people. In July the court fined each of them 650€ each plus judicial administrative fees.
Come join this dinner. Learn about the struggle against energy infrastructure and support some of the land defenders in this area. Likewise, this discussion and fund raiser will be continued the next day at NieuwLand (September 27) with a screening of the documentary about the L'Amassada ZAD titled, Nothing Will Stop Us: ZAD Everywhere (2018). Please join us for both the dinner and documentary film screening!
L'Amassada https://douze.noblogs.org/
Joe's Garage is always looking for cooks. Any help is welcome in the kitchen. Experience not required. If you want to know which days are still available in the schedule, mail us and book yourself the night. You can, of course, also participate by rolling up your sleeves and doing the dishes.