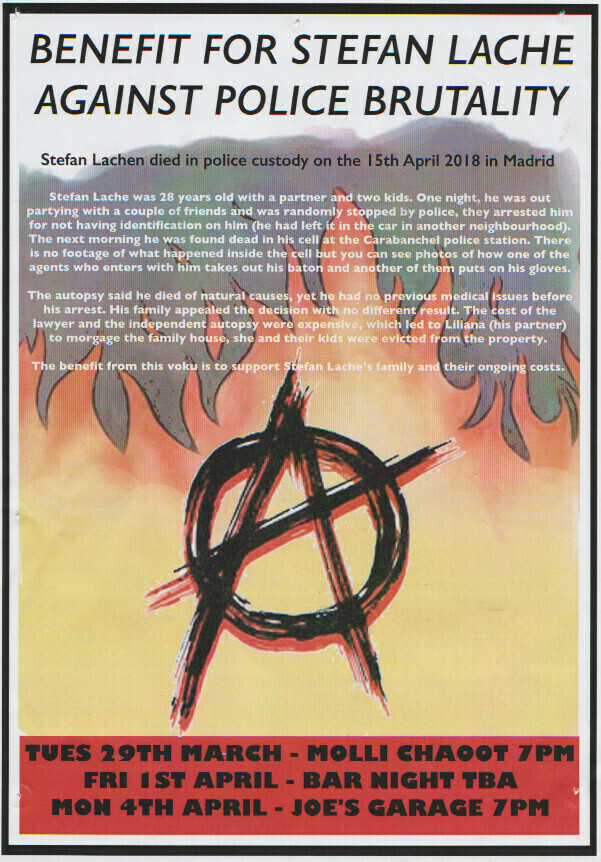 Monday 4 April 2022, Benefit voku: For Stefan Lachen's family. Stefan Lachen died in police custody in Madrid on the 15th April 2018. Volkseten Vegazulu. Food served from 7pm, no reservation.
Stefan Lache was 28 years old with a partner and two kids. One night, he was out partying with a couple of friends and was randomly stopped by police, they arrested him for not having identification on him (he had left it in the car in another neighbourhood). The next morning he was found dead in his cell at the Carabanchel police station in Madrid. There is no footage of what happened inside the cell but you can see photos of how one of the agents who enters with him takes out his baton and another of them puts on his gloves.
The autopsy said he died of natural causes, yet he had no previous medical issues before his arrest. His family appealed the decision with no different result. The cost of the lawyer and the independent autopsy were expensive, which led to Liliana (his parthner) to morgage the family house, she and their kids were evicted from the property.
The benefit from this voku is to support Stefan Lache's family and their ongoing costs.
"¿Quién ha matado a Stefan Lache?": medio centenar de personas exigen que se reabra la investigación sobre su muerte bajo custodia https://www.elsaltodiario.com/violencia-policial/quien-matado-stefan-lache-medio-centenar-personas-exigen-reabra-investigacion-muerte-bajo-custodia
Tres años de lucha para que se investigue la muerte de Stefan Lache en una comisaría de Carabanchel https://www.elsaltodiario.com/violencia-policial/tres-anos-luchando-investigue-muerte-stefan-lache-comisaria-carabanchel
Volkseten Vegazulu is a people's kitchens existing since the very beginning of Joe's Garage, June 2005. Your donations are welcome. Food is vegan, no reservation. All benefits go to social & political struggles. Joe's Garage is a space run by volunteers. Without a collective effort, without your active participation, we're remaining closed. Get in touch in you feel like giving a hand. We're always looking for cooks. Any help is welcome in the kitchen. Experience not required. If you want to know which days are still available, mail us.